Photo by the Fairmont Hotel
If you left your heart in San Francisco, its time to go back for a cardio reboot that will get your blood pumping in this city by the bay. That's exactly what we did recently on an extended weekend getaway.
With so many distinct neighborhoods, your first decision is where to stay. Nob Hill comes to mind as one of the quintessential enclaves in the city and The Fairmont San Francisco is the location of choice, the Grande Dame of the hill, where Tony Bennett first sang the iconic song.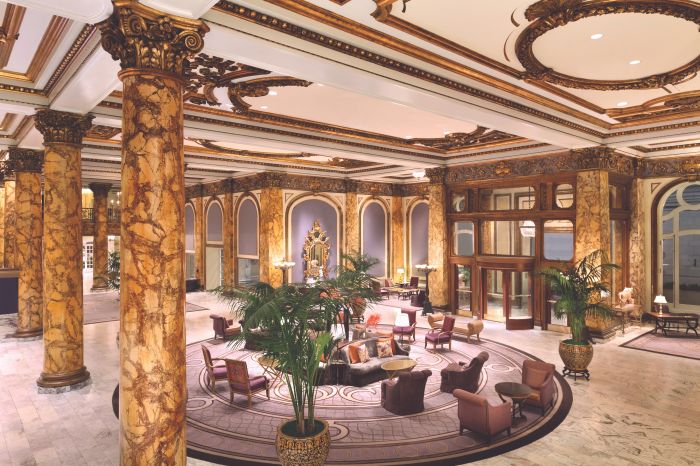 Photo by the Fairmont Hotel
The Fairmont building itself is an architectural gem with nods to the Beaux Arts era, and it exudes class and luxury. The main lobby–with its marble floors and soaring Corinthian columns trimmed in gold– sets the tone for a remarkable stay. Not only has every US president since William Howard Taft resided here, but countless international dignitaries, luminaries and celebrities have all chosen the Fairmont for over 100 years.
Every nook and cranny at the Fairmont is filled with legend and lore about the fabled guests who have graced its rooms and suites. The staff greet and treat everyone who walks through its doors like VIP's because that is the service standard that sets this hotel apart. The rooms are spacious, well appointed and many offer stunning bird's eye views of the city.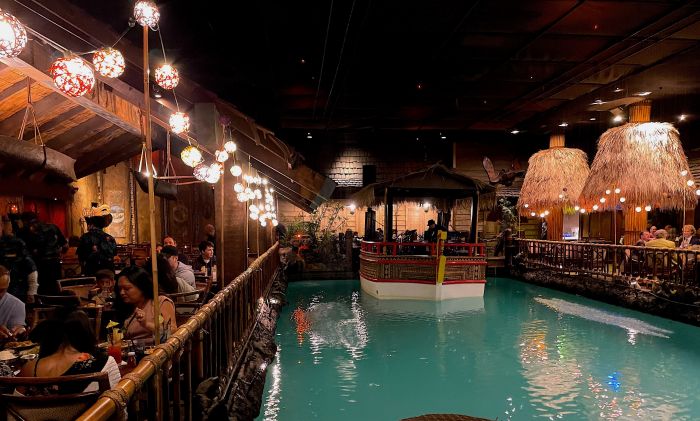 Photo by the Fairmont Hotel
While the city of San Francisco is known for its excellence and choice in dining, there is only one Tonga Room that has hosted the Queen of Tonga, and it is here at the Fairmont and worth an evening of live musical entertainment, memorable Mai-Tai's, and a South Sea and Asian menu– all set in tiki hut décor surrounding an indoor plunge pool.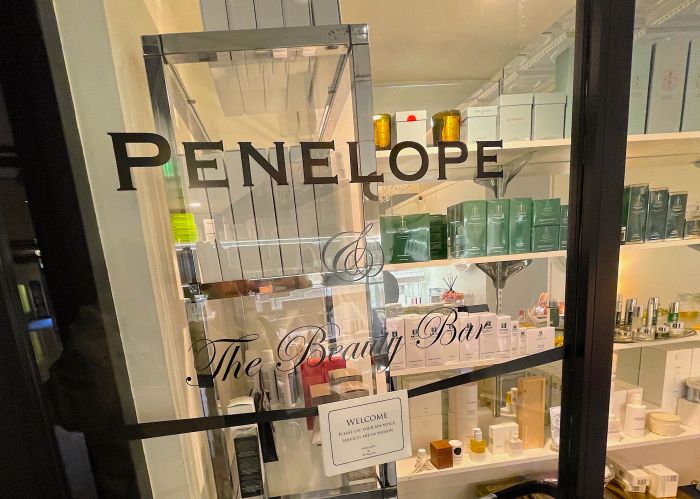 Photo by Michael Reiss
Be sure to include an indulgent body treatment at Penelope &The Beauty Bar located in the lobby. This boutique spa is one of a select few privileged to use tried and tested products and techniques from Biologique Recherche and MBR for their customized treatments.
Your face and body will be enriched, enlivened and glowing after just one visit. What a way to cap off your own legendary, VIP stay at this mainstay of San Francisco hospitality, The Fairmont San Francisco.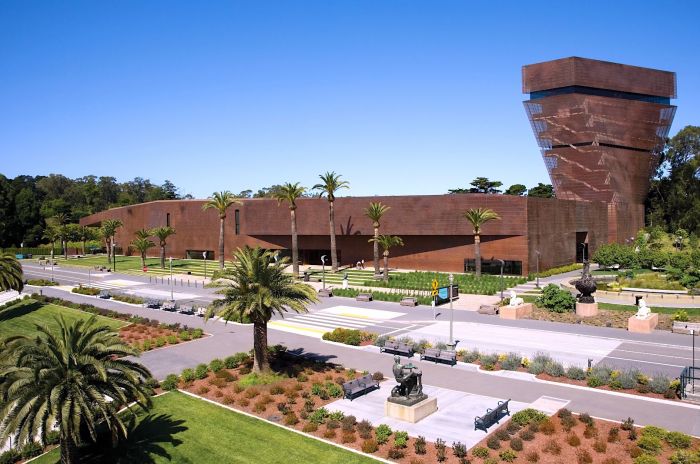 Photo by Gary Sexton
Plan your stay for several nights because there is so much to experience and enjoy. Our highlights included visits to the world class museums including the de Young, the Legion of Honor, the San Francisco Museum of Modern Art, and the Asia Art Museum. Each one offered docent tours to enhance your understanding of the state of the art.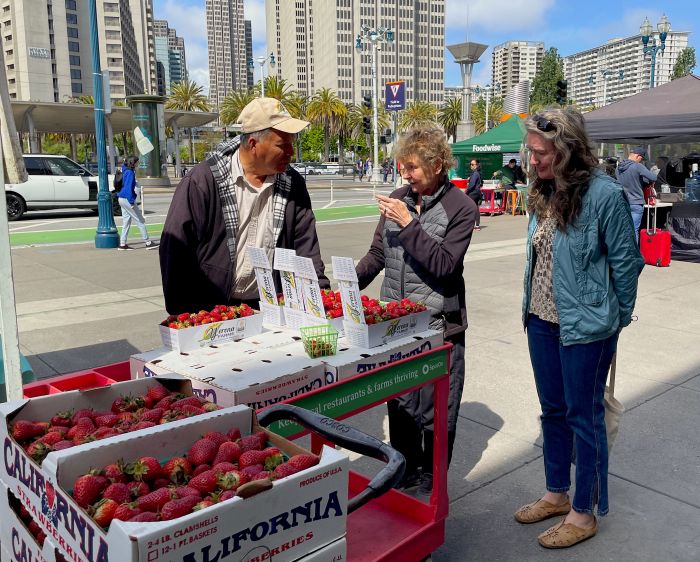 Photo by Michael Reiss
Culinary tours abound and one of our favorites is the "Ferry Building and Farmer's Market Tour" offered by Edible Excursions. Michaela, our knowledgeable and engaging tour guide gave us the inside scoop on the historic building and the vendors whose stories bring additional insight and appreciation to the table. The San Francisco Ferry Building dates from 1898 and has always been a hub for the bay area's most discerning food artisans. You'll get the full story while they fill your bellies with at least 10 samples of bountiful bites from the Building's local vendors.
Although they change bites regularly, the favorites of our tour were the Mini Churros served warm with delectable dipping sauces, Acme artisan bread and gourmet cheese, chocolate, a Cubano Sandwich, Huitlacoche Taco and heirloom organic strawberry tasting from Poli, a longtime Farmer's Market favorite purveyor. This tasting tour easily rates among OUR TOP TEN and will tickle and delight your taste buds.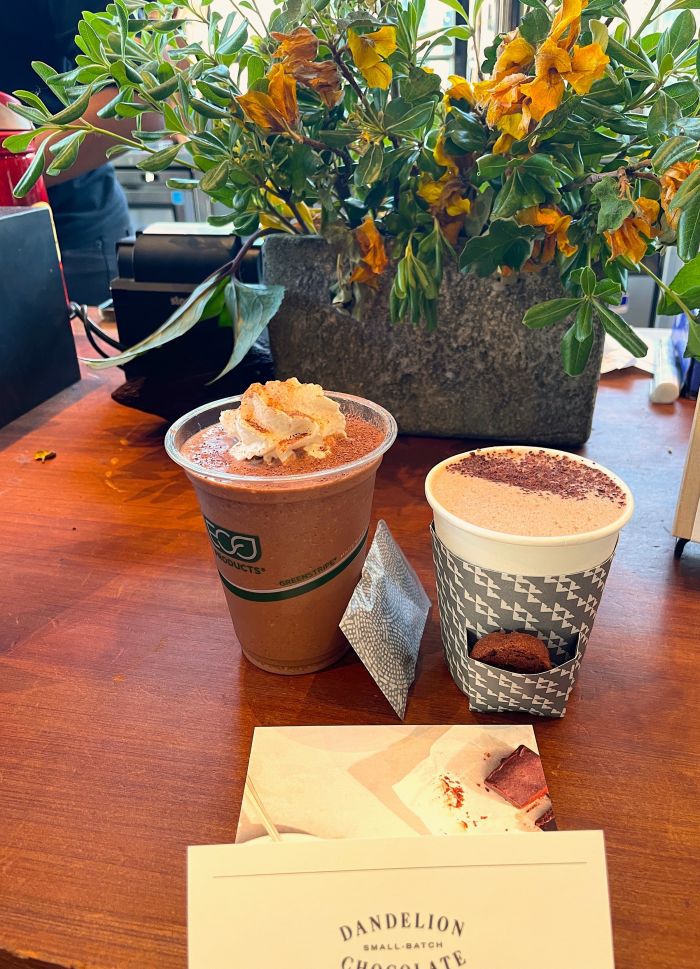 Photo by Michael Reiss
Now, if that's not enough to satisfy your inner foodie, follow this with a decadent Dandelion Chocolate Experience. You are guided along the historic 16th St. factory production line by an expert chocolate educator who will explain every step of the chocolate process while you sample some of the delectable fruits of their labor.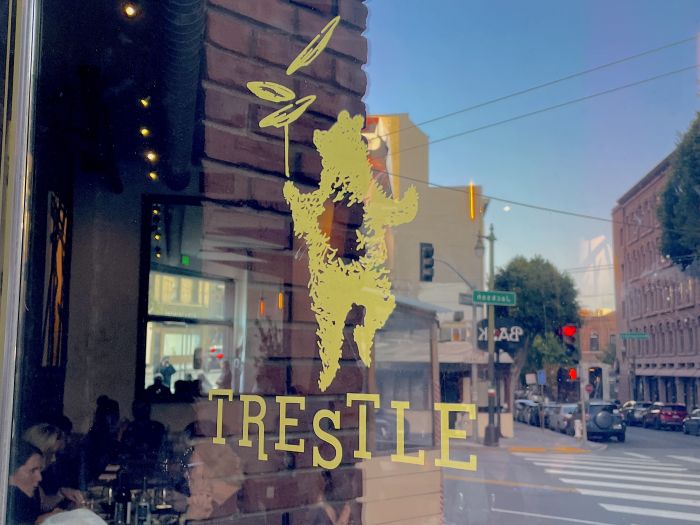 Photo by Michael Reiss
Now back to dining, a favorite sport of most San Francisco tourists and denizens. There is something for every taste and pocketbook, the choices are dazzling, and we experienced three standouts of note.
We tried Trestle, a highly rated neighborhood haunt, part of the Hi Neighbor group, for their weekly changing 3-Course Prix Fixe Menu.  With two choices in each of the three categories, we were able to sample the full menu, and every course was expertly presented, copious and delicious.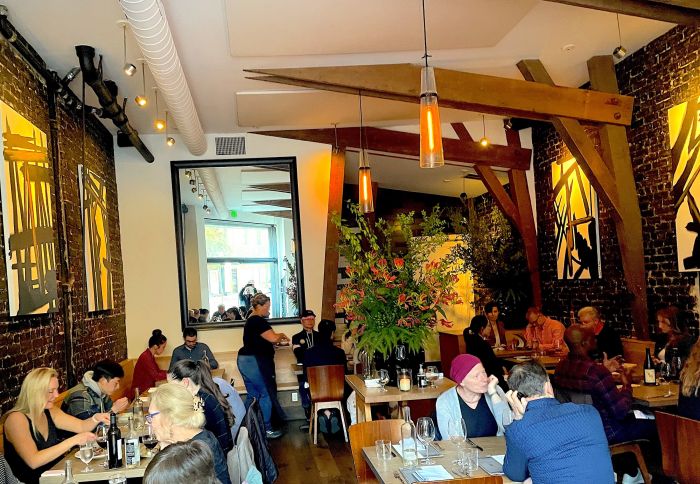 Photo by Michael Reiss
The concept, technique and execution were fine dining standards at neighborhood affordable pricing and deliberately so as they want their neighbors to come back and they do.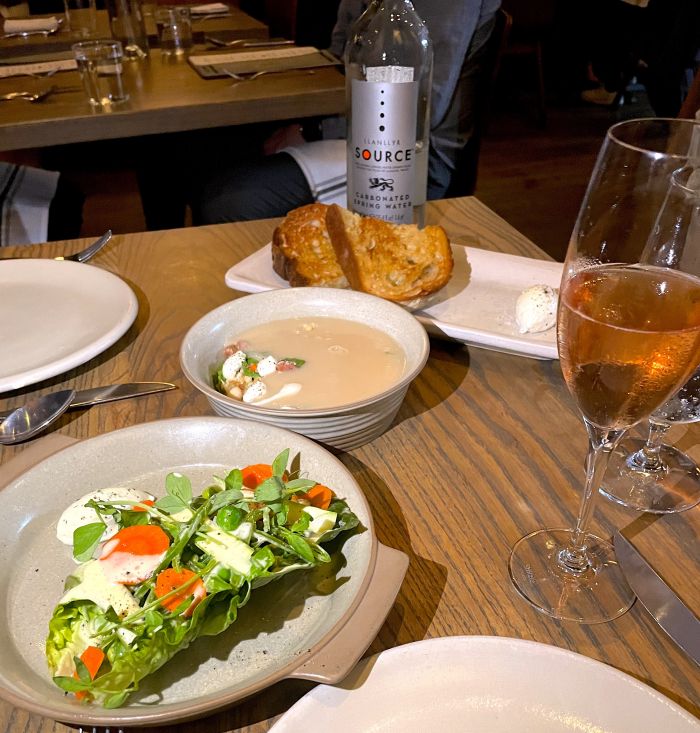 Photo by Michael Reiss
Our favorites that night were the Shrimp Risotto, Crispy Skinned Salmon, and the Steak–all appealing to a gourmet palate. The wine and beer selections were impressive, and the service was top notch. Trestle is a "FIND," offering true value on the contemporary American dining scene with global influences that speak to the rich diversity of the city.
Photo by Michael Reiss
If dining and debauchery appeal to your appetite, Lyon and Swan Supper Club is right up your alley or more correctly put, your basement. This historical subterranean venue has been entertaining diverse, inclusive patrons since 1918 and has the lineage to prove it.
Photo by Michael Reiss
The current roster of performers changes often and includes an eclectic mix of live music, comedy and more. Check the calendar of performers and don't miss Wobbly World, an Afro-Cuban fusion group that had us singing and dancing to the soulful Latin rhythm and beat.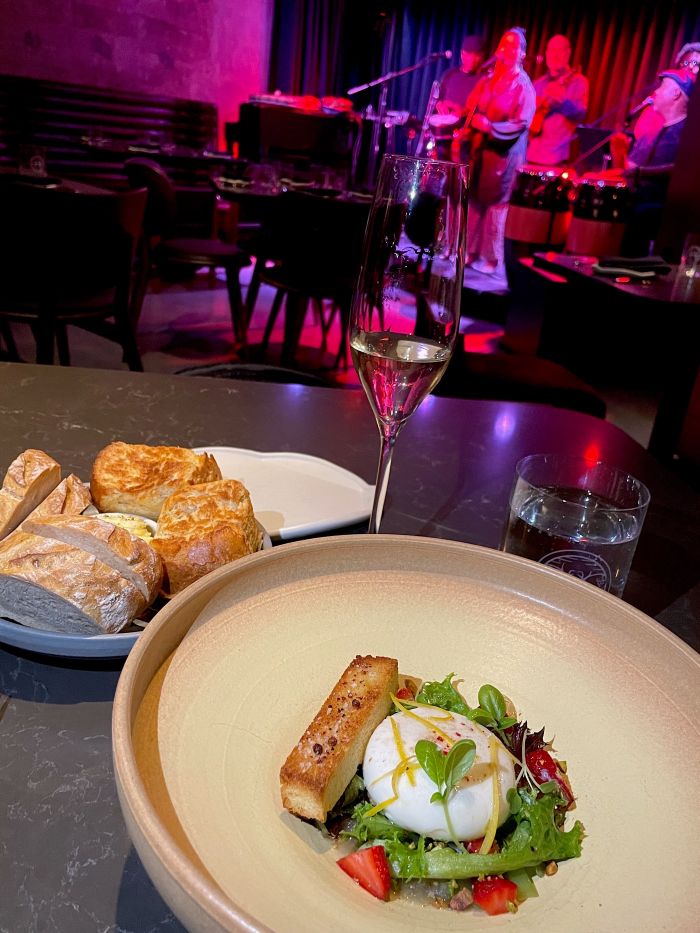 Photo by Michael Reiss
The food at the Lyon and Swan Supper Club is California fresh with French technique and flair. Our Duck Confit, Burrata Salad and Seared Scallops were done to perfection. The beverage selections include a sophisticated selection of cocktails, wines, beers, and spirits sure to please every palate. The ambience is cool and vibey. This intimate 15 seat venue puts "THE SPECIAL" into any occasion.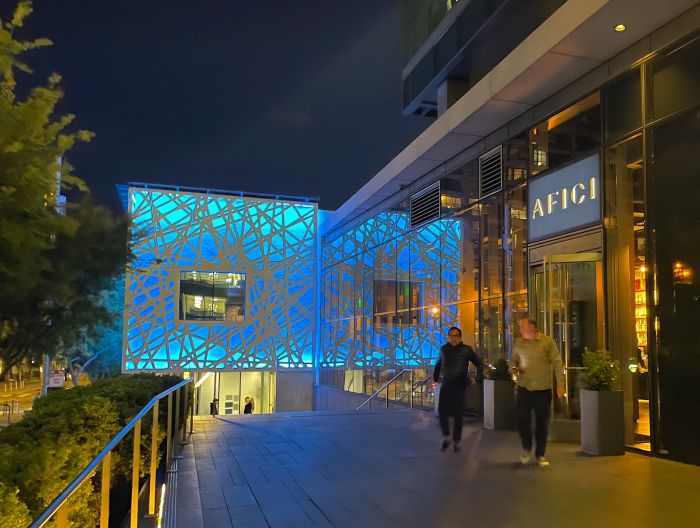 Photo by Michael Reiss
Our last and most impressive dining adventure was at AFICI, a relative newcomer to the fine dining scene. From the moment you arrive, you are greeted as a guest of honor. You are offered a welcome gourmet signature spritzer and escorted to your table.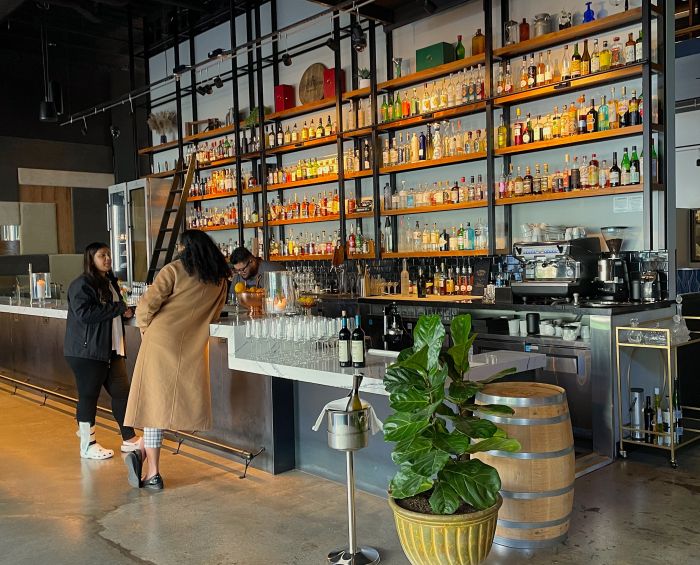 Photo by Michael Reiss
The space, quietude, luxurious seating, and fine white linens all set the stage for the dining adventure to follow. Your Four-Course Tasting Menu includes choices for every palate and preference at a value price point well below what you would expect and be willing to pay for the quality of the ingredients, preparation, presentation and attentive, knowledgeable service.
Some of the highlights of our Spring Menu choices were the White Asparagus Panna Cotta with Morel Mushrooms, the Duck Tortellini with Asparagus, and the Stripped Bass with Wagyu Bacon. Just when you were wishing you could soak up the sublime sauce, a server appears with homemade, warm Fougasse, the French version of Focaccia.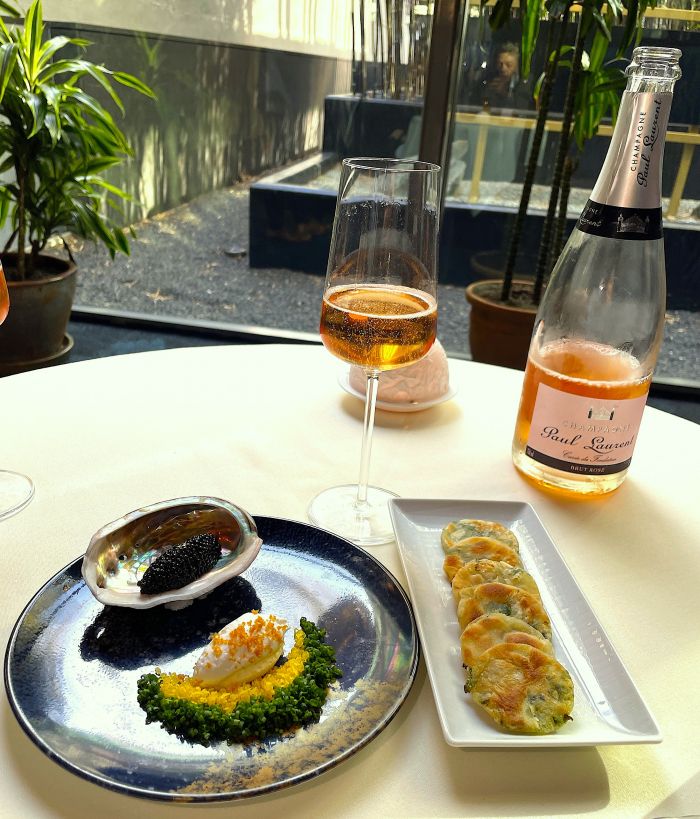 Photo by Michael Reiss
Wine service was impeccable, headed by Nicholas Keegan whose wine list was impressive yet organized for ease of selection. Put yourself in his hands for spot-on pairings that complement and enhance the experience.
If you are in a particularly celebratory mood, add the Curated Caviar and or Wagyu Charcuterie Tasting for additional delectable delights. If you are in a more casual mood, their copious and eclectic beverages and bar bites elevate this scene to true gourmet dimensions in a relaxed, elevated setting. The restaurant's name, "AFICI," is short for "aficionado," and you will become one of their devotees after your first visit. This is a restaurant destined for Michelin Stars yet affordable enough for mere mortals to enjoy.
With so much to savor and experience, you may just leave your heart in San Francisco for a while longer until you can return again to explore more of what makes this city a hands down top international tourist destination.