Painted mural in Colinton tunnel devoted to R.L. Stevenson.
Lovers of adventure stories are no doubt familiar with Scottish writer Robert Louis Stevenson, who penned 'Treasure Island' and 'Kidnapped' among other novels, but huge credit goes to several distinguished individuals who have helped keep the author's achievements alive.
I had the great pleasure of meeting these people on a recent three-week trip to Scotland, a literary tourism expedition on the trail of the famed Edinburgh-born author.
Take, for example, Professor Linda Dryden, Director of Research at the School of Arts and Creative Industries and Director at the Centre for Literature and Writing (CLAW) at Edinburgh Napier University.
My meeting with Linda, a down-to-earth woman well-known and respected in academic and literary circles throughout Scotland, took place in the comfy, elegant drawing room of the Georgian Edinburgh house where the famed 19th-century author lived for many years before departing for the far-off shores of America and eventually Samoa in the late 1800s.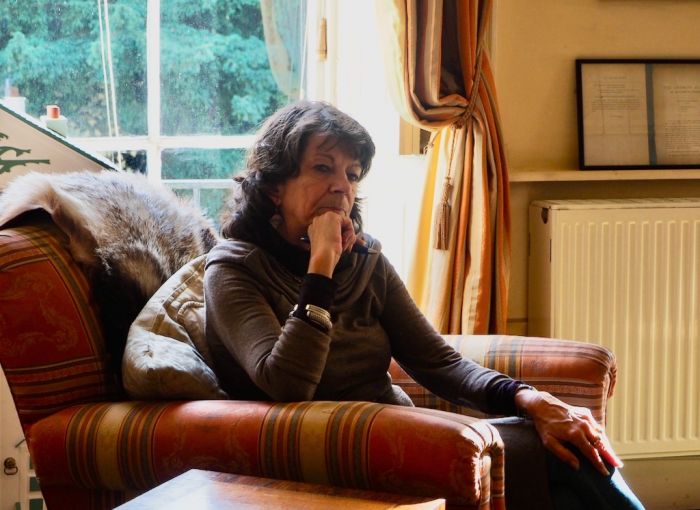 Professor Linda Dryden discusses the colorful life of R.L. Stevenson.
Named, aptly, 'The Stevenson House,' it is now a delightful guesthouse owned and run by John, a former solicitor, and Felicitas Macfie and located on Heriot Row in the city's New Town district within a five-minute walk of the Scottish capital's busy downtown shopping area along Prince's Street. Here, on several floors is a veritable haven, or heaven, of books, Stevenson's many works, of course, being prominent, all set amidst an assortment of 19th-century furnishings and antiques.
It was here that Linda, John (who also conducts special Stevenson tours) and I sat for several hours over cups of tea one afternoon discussing the merits of one of Scotland's most famous writers, a man, Linda said, "could tolerate most things except dishonesty and injustice."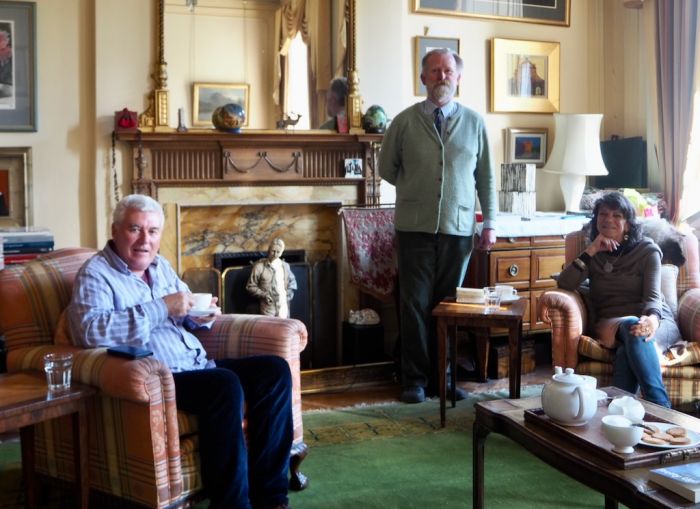 Enjoyable afternoon tete-a-tete with Professor Dryden and John Macfie at The Stevenson House..
While Linda completed her Doctorate on Joseph Conrad many years ago, she has always held an enduring love for the work and philosophical outlook of Stevenson and has put her devotion into action in so many ways, including innumerable appearances at conferences and in the media highlighting his many talents.
Not only, but she is also the editor-in-chief of a comprehensive website devoted to the writer, RLS Website and has helped maintain The Ernest Mehew Robert Louis Stevenson Collection at Napier, comprising more than 4,000 items including first edition books, private letters, images and magazine serializations.
Linda says proudly that she is related to Stevenson, but adds with a smile, "but as RL had about 57 first cousins, you don't have to go too far to be related."
Both Linda and John are also involved in 'Robert Louis Stevenson Day' which takes place on 13 Nov, with a performance or a lecture taking place at John's house.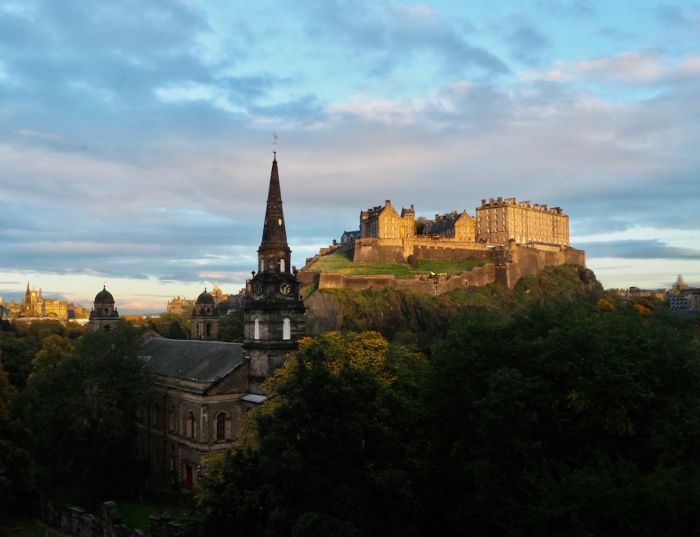 Impressive Edinburgh Castle stands watch over Scotland's capital city.
When informed that many people in Donegal, northwest Ireland, where I live, say Stevenson visited relatives there and may have been inspired to write 'Treasure Island' after hearing about galleons of the Spanish Armada sinking there and an island mistranslated from Irish into English as 'Gold Island,' Linda says, "legends associated with the author abound, but his reality is rich enough as it is without the need for legends, for he loved the edges of society, being in interesting places, interesting situations."
Asked about sites linked to the author that travelers can visit, both Linda and John ream off a list of places. They include 'The Writers Museum' in Edinburgh which has a significant collection of personal items including Stevenson's pipe, fishing rod, ring, riding boots and cap, manuscripts and an extensive archive of photographs; and Edinburgh Castle, a key location in his unfinished novel, 'St. Ives,' with John adding that the author "liked to get color and detail just right.'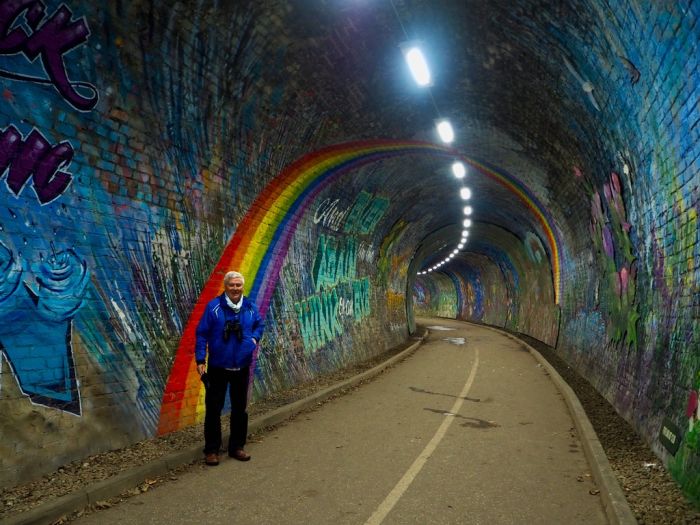 Colinton tunnel: a labour of love.
Their list also includes a number of pubs that RL frequented with his buddies, such as Hawes Inn in South Queensferry. It is said that RL was staying here in 1886 when he came up with the idea for 'Kidnapped' and started writing it there. The Inn features in the novel as the place where the kidnapping of the hero, David Balfour, is arranged. The author, who would go canoeing nearby before often getting drunk afterwards, formed his LJR (liberty, justice and reverence) Group there, to "debate life's meanings." 
And don't forget to drop in at the Deacon Brodie's Tavern on the Royal Mile. Brodie was a well-to-do 18th-century cabinet maker turned robber and it is said his double life was the inspiration for Stevenson's infamous character Dr. Jekyll and Mr. Hyde.
Places outside Edinburgh on the author's trail include the island of Erraid and port of Wick, where Stevenson learned about his father's engineering feats, particularly on lighthouses, and where he may even have donned a diving suit to examine underwater foundations. And Swanston, about 10 miles outside the capital city, where the author's parents had a holiday home for about 10 years, and where Stevenson formed a bond with the local shepherd.
Mike Scott, brainchild of the Colinton tunnel project.
One impressive site Linda mentioned was a colorful 'community tunnel' project in nearby Colinton devoted to the author which I and my companion visited in the lively company of Mike Scott, the brainchild behind the project. Here, in a suburb about three miles from downtown Edinburgh, enthusiastic local people, including street artists and over 100 children led by designer, Chris Rutterford, have produced a stunning celebration of the writer's 16-line poem, 'From a Railway Carriage.'
Covering 1,800 square meters of a Victorian tunnel, this dedicated group have created over the last year an engaging, exciting and amusing public artwork. Here you'll find a huge mural that comprises a kaleidoscope of color, of fairies, dragons, eagles and witches and other Harry Potter-esque-like images to birds, otters, butterflies, even daisies painted by a child called Daisy, as well as intriguing Van Gogh-ish elements.
Statue of R.L. Stevenson on a walking path near Colinton tunnel.
"Using RL's poem, Chris – who grew up a mile or so from this tunnel – and his collaborative team, have created a wonderful visual description of how a rail trip from the city to the countryside might have felt to a child," said proud Scott. "Each line on one side of the tunnel is a coat-hook to hang local details on the other side. It is an immersive experience that is attracting a lot of visitors to the area and connects amazingly well to our community's history."
Indeed, a short walk from the tunnel is a special literary trail opened six years ago depicting verses from R. L Stevenson's' A Child's Garden of Verses,' a collection of poetry published in 1885 concerning childhood, illness, play and solitude.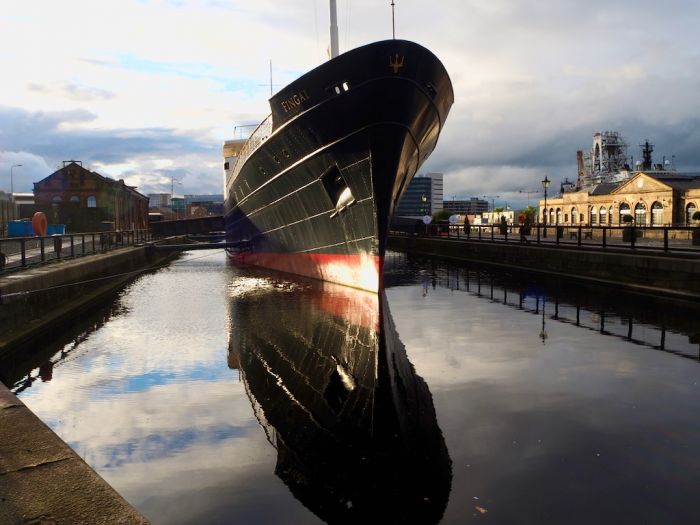 Fingal, luxury hotel-on-water in Leith.
"It resonates with Colinton because so much of the poetry clearly has an autobiographical basis and links to RL's childhood experiences," said Scott.
One of RL's grandfathers was a Church of Scotland Minister in Collinton and his grandparents are buried here.
And for something quite different on this literary tourism trail, book a room on the Fingal, a luxury boat permanently docked in the nearby port of Leith where guest relations manager, Charlie Granleese, is a Stevenson aficionado and where all the rooms bear the names of Scottish islands whose lighthouses were maintained by the Stevenson engineering family, including a young Robert Louis.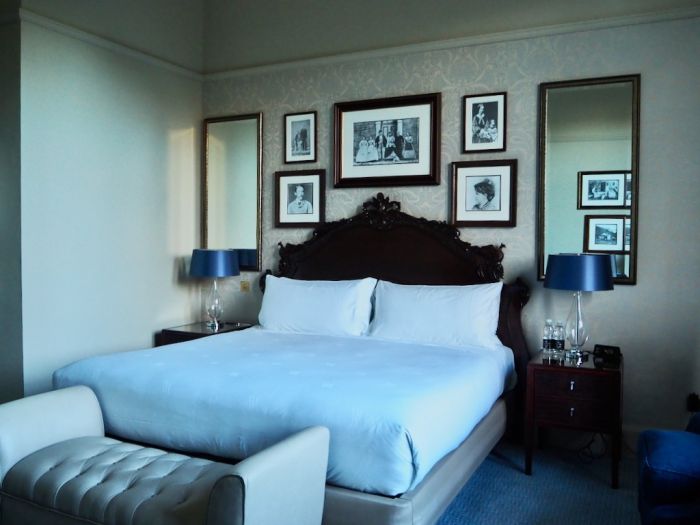 Suite at Waldorf Astoria Edinburgh The Caledonian devoted to R. L. Stevenson.
In addition, Waldorf Astoria Edinburgh The Caledonian has dedicated a suite to the author with photographs adorning the walls.
John Macfie described R. L. Stevenson as someone who was a "rickle of bones, with broom handles for legs, and suffered from bronchial sickness, a man who inspired love."
Obviously, that love has spread far and wide, uplifting a multitude of the author's devotees.