Corazon Cabo Resort and Spa
Before the end of the year or to kickoff 2024, those looking for a wellness resort in Cabo San Lucas will appreciate an array of immersive experiences at Corazón Cabo Resort and Spa.
This is Noble House & Hotels Resorts' first-ever property in Mexico. In Spanish the word Corazón translates to 'heart' in English. This newer luxury resort is located in the heart of Cabo San Lucas on Medano Beach overlooking Land's End and the Sea of Cortez.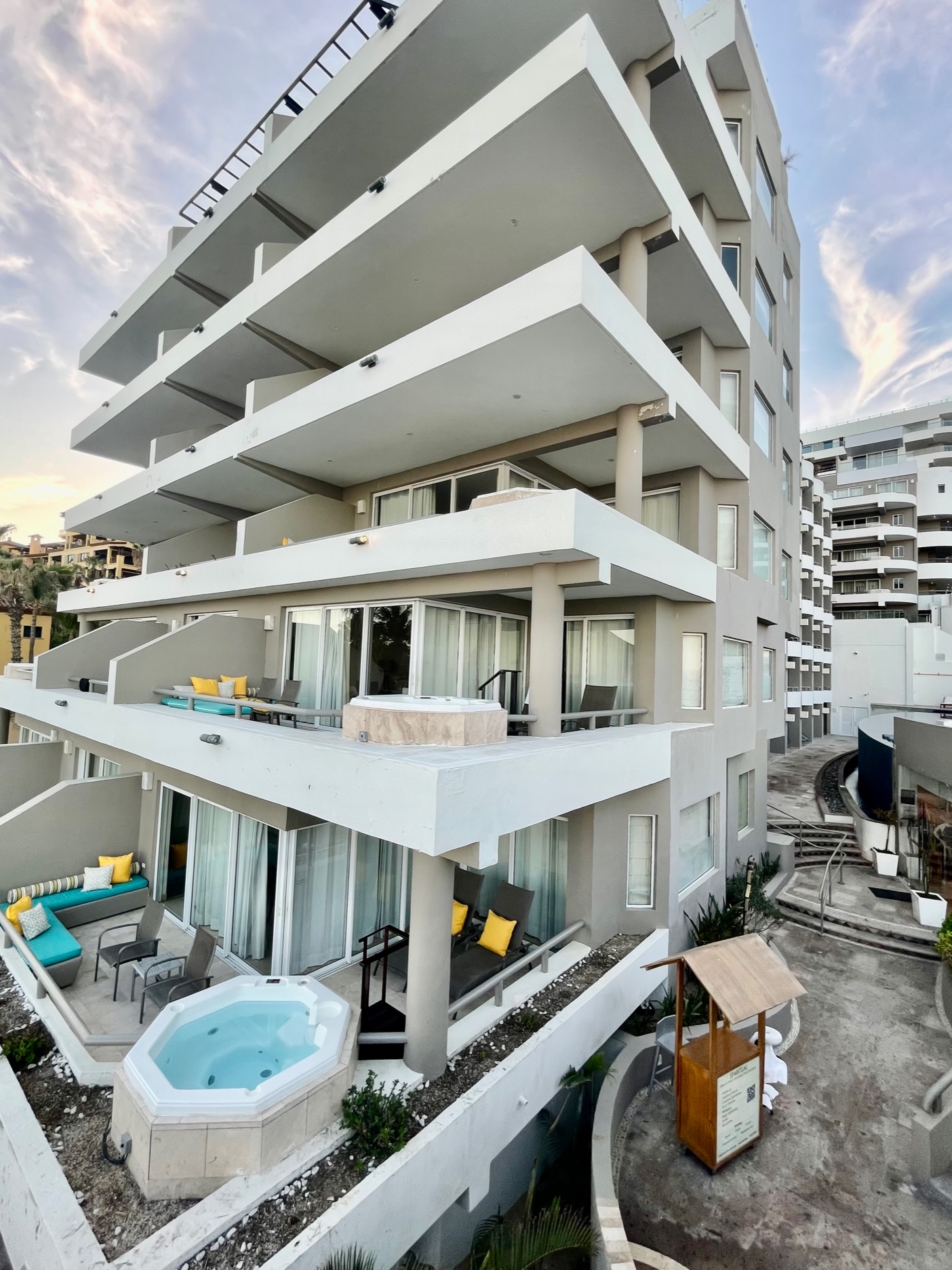 Photo by Jill Weinlein
Part of the $100 million build in February 2022, included the construction of the Corazón Tower. This added 187 guest rooms and 17 luxury suites to a total of 305 guest accommodations. Furnishings and art throughout the resort are influenced by Mexico's rich history.
Picturesque views will warm one's heart when opening their expansive floor-to-ceiling glass sliding door and stepping out onto a large balcony or terrace. Besides comfortable seating, some of the resort's luxury guest rooms and suites have an individual whirlpool hot tub.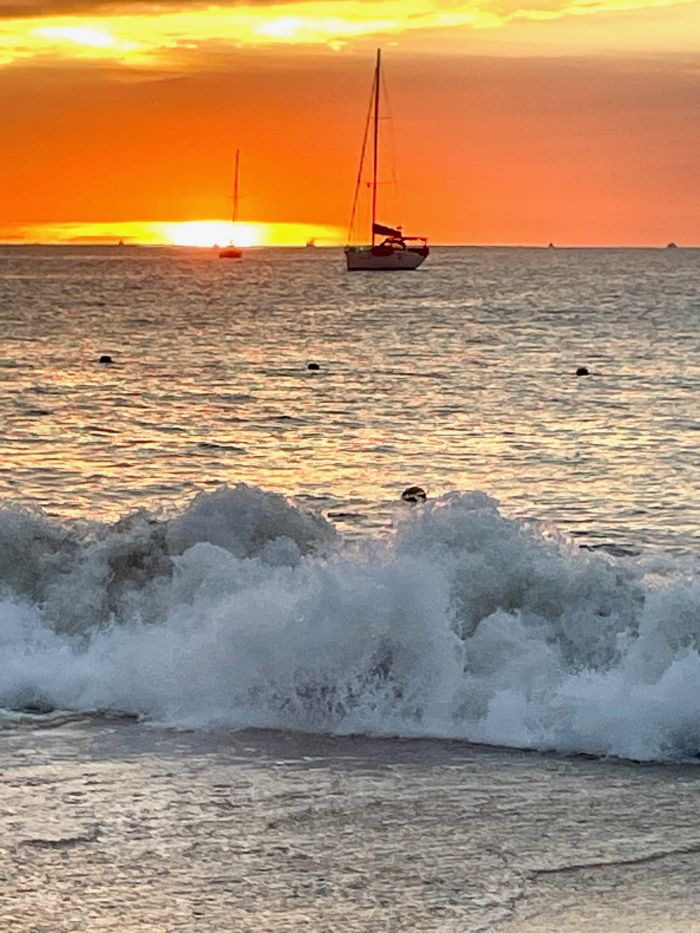 Photo by Jill Weinlein
Wake up early to take in a morning sunrise. Walk along the beach to get your heart beating. Your senses will appreciate the spectacular colors from the bright sun rising up from the water. The beach is empty of locals and tourists until around 8 a.m. Feel the coolness of the water on your toes as you take in the picturesque sights.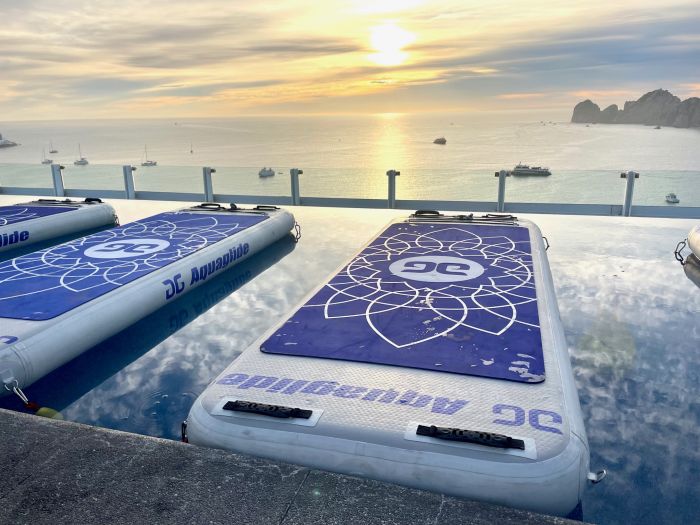 Corazón Cabo Resort and Spa – Photo Jill Weinlein
Be sure to attend a sunrise Aqua Yoga class up on the Rooftop360 infinity lap pool. Guests balance on floating inflated mats anchored with weights. Watch the cruise ships enter the protected bay, while you relax, breathe, balance, and stretch.
The resort's Sparitual Spa offers outdoor and indoor self-discovery experiences. Spa professionals will cleanse your chakras to revitalize your energy and spirit before an alignment massage and reflexology treatment.
Arrive 30 minutes early to enjoy a guided hydrotherapy circuit with use of the sauna, steam, hot whirlpool tub, and pressure shower included with any treatment.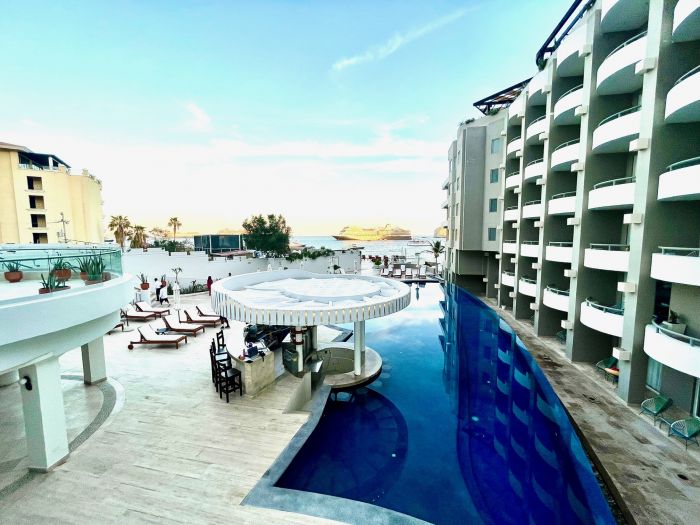 Corazón Cabo Resort and Spa – Photo Jill Weinlein
Spend your day cooling down at the lobby level or lower level infinity pools. Breakfast is available in the morning at the lobby level infinity pool bar. Sit on one of the comfortable lounge chairs while enjoying a bowl of fresh fruit with a healthy green juice and coffee or tea. 
Happy hour starts early at the pool areas. Each of the three infinity swimming pools have a full bar to make your favorite beverage.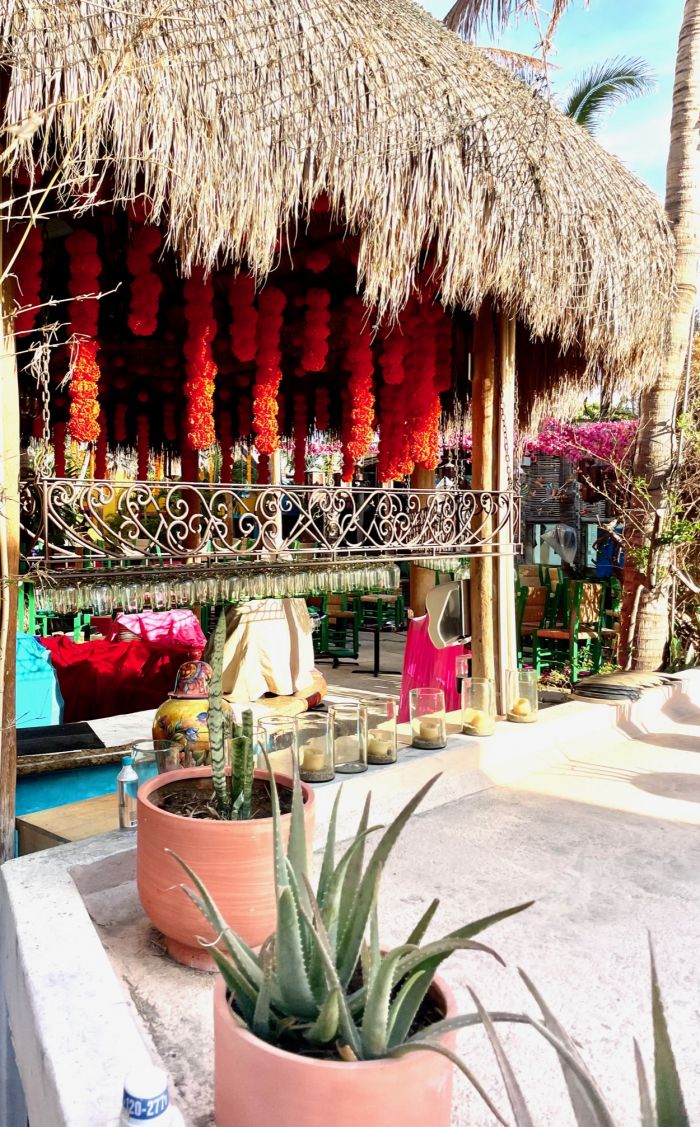 Aleta Restaurant – Photo Jill Weinlein
The all-new dining concept, Aleta is the waterfront all-day dining restaurant providing views of the beach and Lands End. The open kitchen serves breakfast in the morning. During lunch and dinner the restaurant prepares fresh, daily caught seafood for sushi and fish of the day entrees. They can be prepared fire grilled, fried, steamed, or sashimi-style.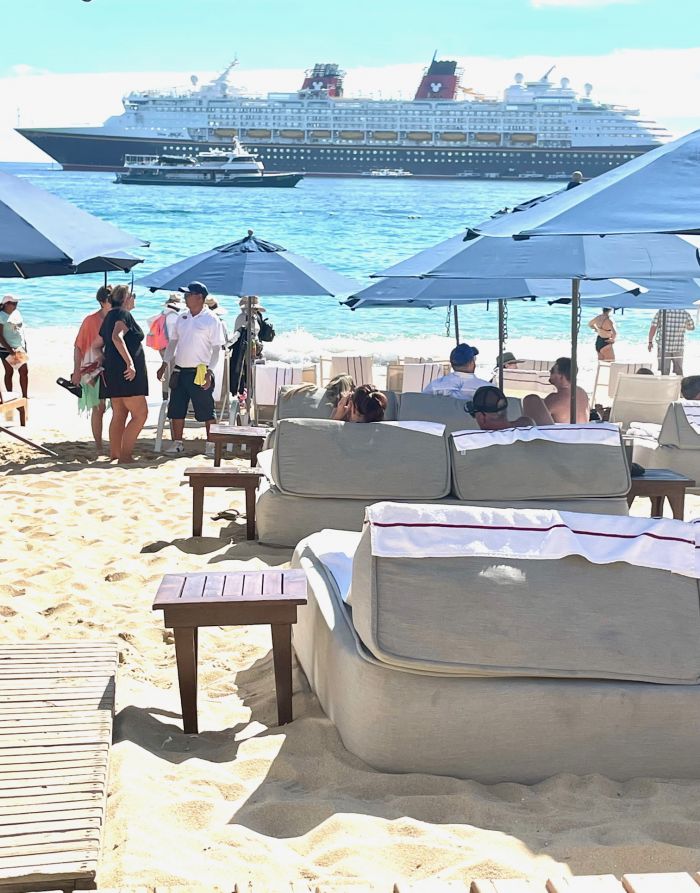 Corazón Cabo Resort & Spa – Photo Jill Weinlein
Spend the day at the newer Corazón Beach Club overlooking Medano Beach. It's the largest beach club in this area. Enjoy an array of Sea of Cortez water activities at this swimmable beach, or relax under a shade umbrella. Reserve a lounge chair or daybed to enjoy lively music and a full-service bar and restaurant.
Lunch bento boxes are brought to beach goers to enjoy with a Mexican beer, icy mocktail or margaritas. Scoop guacamole onto crunchy tortilla chips while wiggling your toes in the sand.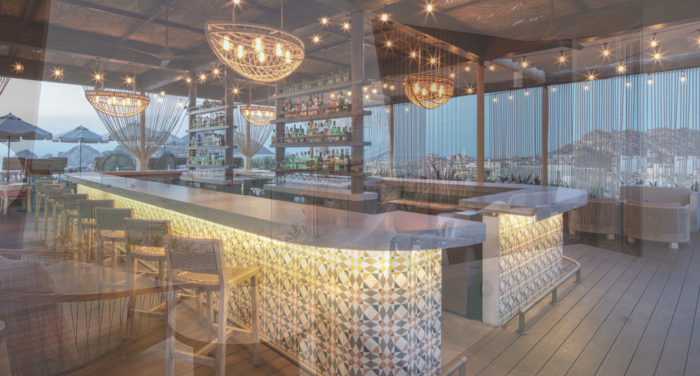 Photo by Corazón Cabo Resort & Spa
Sunsets are the best to be enjoyed nine-stories high at Rooftop 360, the city's highest rooftop bar. Take in the 360 degree views of Cabo San Lucas while listening to lively music as the sun sets into the sea. The full bar offers a tequila flight tasting with fresh ceviche, chips and guacamole. The enchanting skyline lights twinkle in a distance, as guests enjoy salads, tacos and angus beef sliders.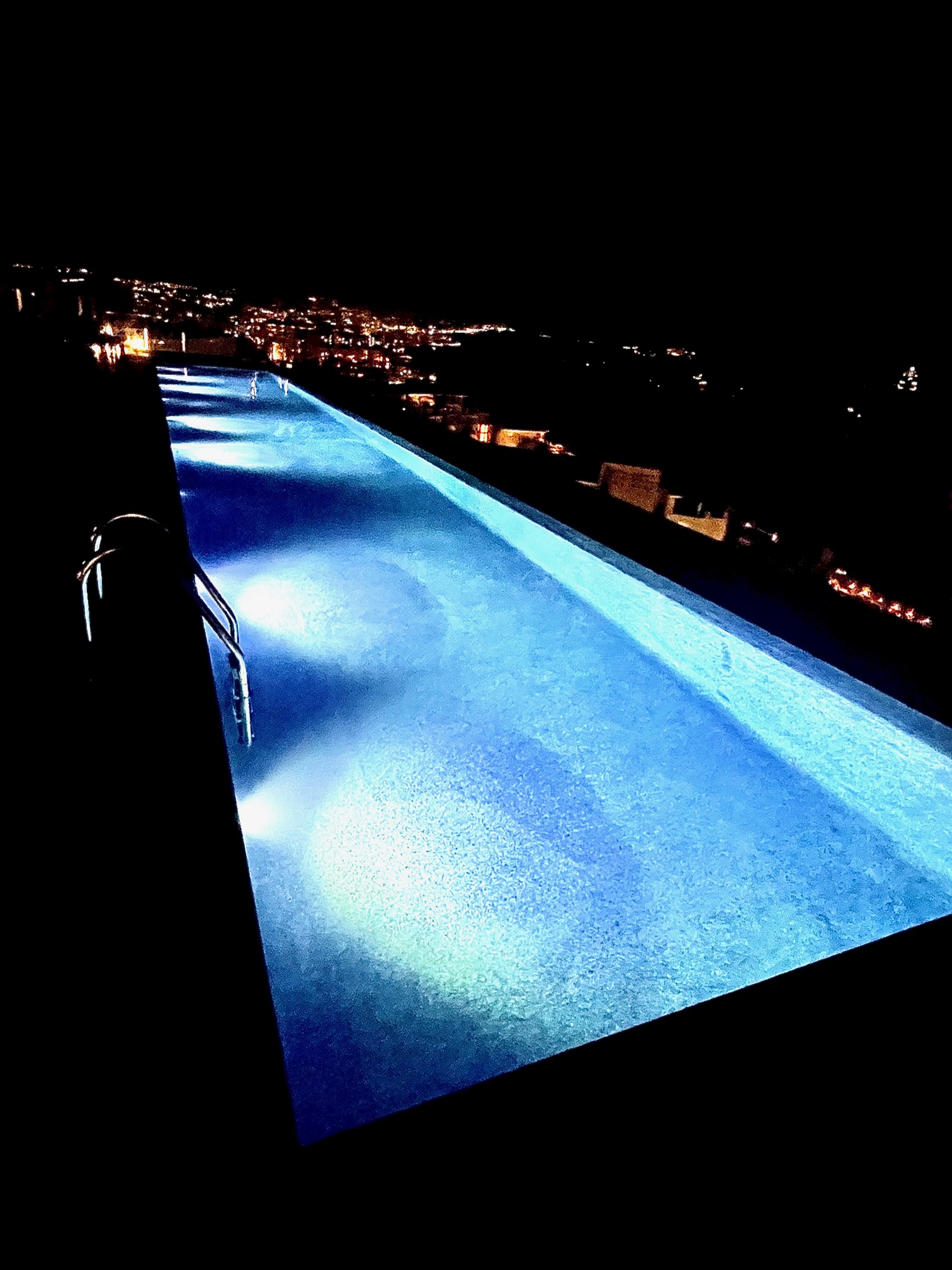 Rooftop 360 – Photo by Jill Weinlein
It's also one of the most romantic and sophisticated venues at the resort in the evening. Take in the city views while floating in the infinity lap pool. 
There is a more casual rooftop dining and drinking venue at the resort, Baja Brewing Co. This is Cabo's only micro-brewery, that makes and serves 8 different types of craft beers on tap. The food menu includes a variety of wood-fired pizzas, pub-style fare and Mexican specialties.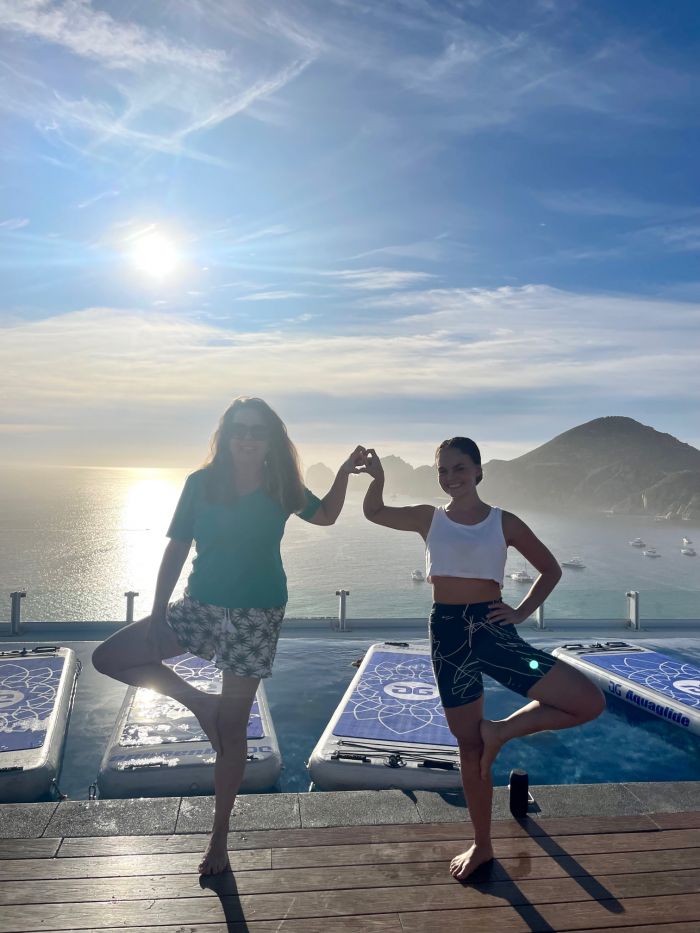 Corazón Cabo Resort & Spa – Photo Jill Weinlein
Corazón Cabo Resort & Spa has special offers that include round-trip transportation from the airport to the resort, a whale-watching boat trip, a third night free, and food and beverage credits. The resort's unparalleled wellness opportunities will heighten your senses and give you a renewed outlook on life.