You've got a closet packed full of clothing, but nothing to wear. Enter Classic Six, the brand that is revolutionizing the way women get dressed. Classic Six is the answer to the age old wardrobe quandary of "what do I wear?" Launched in 2020 by founder Diana LoMonaco with a "less is more" philosophy, the collection includes six+ impeccably crafted designs meant to be styled to create 40 different looks, with the simple addition of a pair of jeans and a t-shirt. Classic Six cuts through closet clutter with its focus on thoughtful design, versatility, functionality, quality construction, and most importantly, style. The goal? Easing the stress of getting dressed.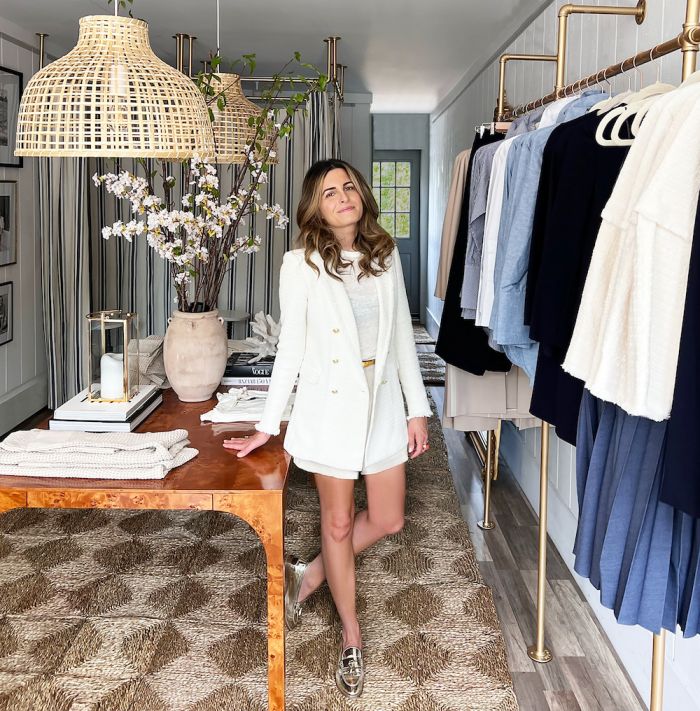 Classic Six founder Diana LoMonaco
A passion for fashion—paired with her desire to simplify—led LoMonaco to the idea for Classic Six. A former Macys advertising designer and graphic design business owner, LoMonaco was blogging about fashion in her spare time, and accumulating too many clothes. She eventually became overwhelmed with her own purchases, and realized a desire to downsize and streamline her closet. With a focus on quality over quantity, LoMonaco created a carefully-curated, highly edited, pared-down wardrobe of quality pieces. "And not just quality in construction," says LoMonaco. "But quality and thoughtfulness in design. We were extremely lucky to find production partners that work with some of the world's most high-end brands. The attention to detail of our partners and the technological ability is something I continue to be impressed by." 
Each Classic Six piece is versatile, functional, chic, and timeless. Each piece is meant to go with the others, and each is intended to inspire the creation of endless looks. The brand started with an original six pieces (hence the company name), each named for a fashion icon. These included a perfect double-breasted blazer, button-down shirt, sweater, accordion pleated skirt, duster coat, and shift dress. Since then, the brand has added silhouettes to the collection based on customer requests and on what LoMonaco and team believe compliments the original six in creating even more looks.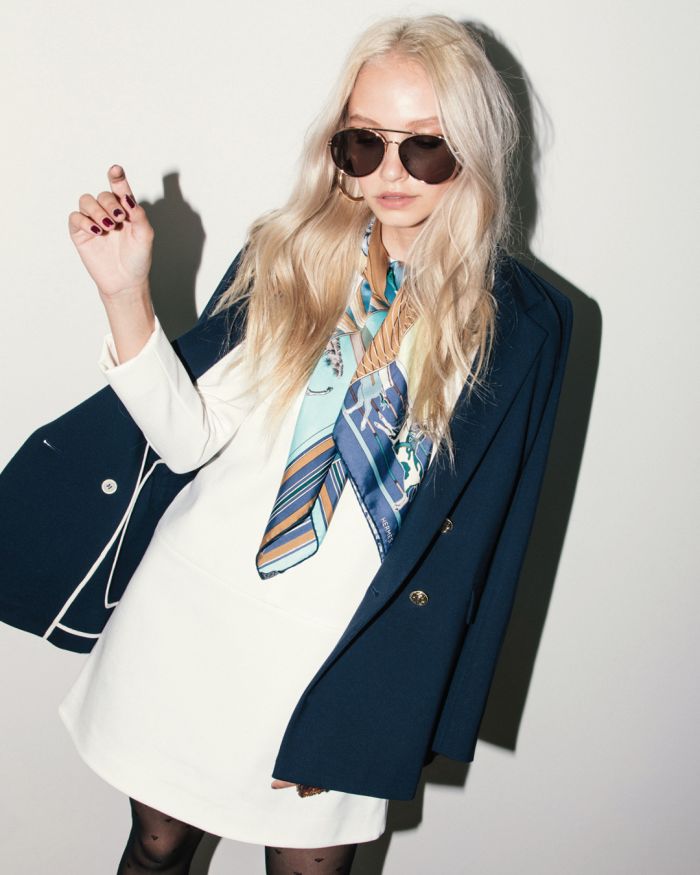 The Classic Six Katharine double breasted blazer and Twiggy shift dress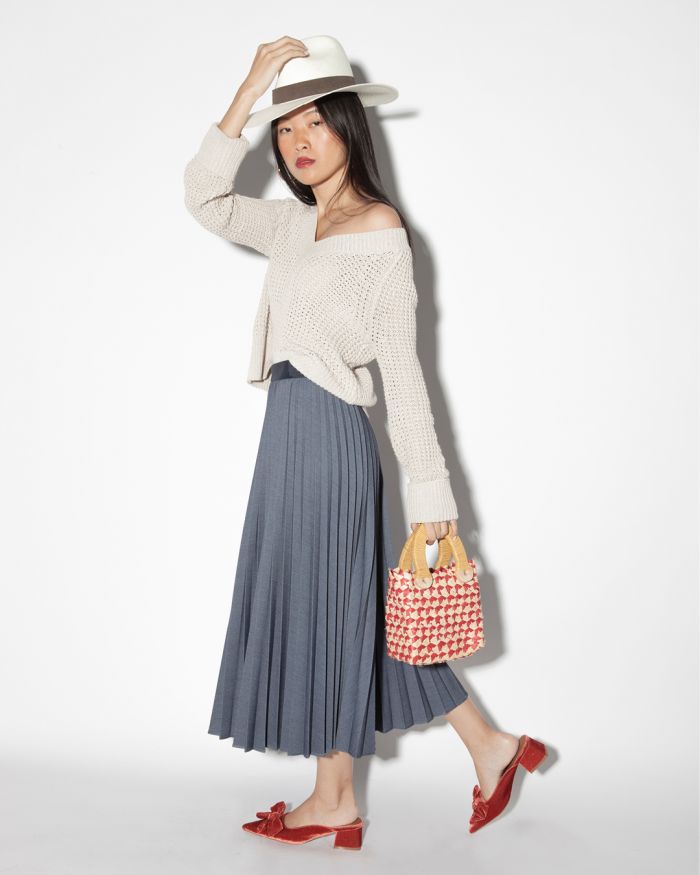 The Classic Six Marilyn accordian-pleated skirt and Brigitte linen sweater
Additional pieces are added seasonally. (Prices range from $185 to $450; t-shirts are $85.) The launches are always small (not more than one to six pieces), always with the intention of making getting dressed and shopping easier and less overwhelming. "New pieces include new textiles of our original six as well as completely new pieces including our best-selling Beverly wide leg pant and our Gabrielle cropped jacket with detachable sleeves (so you can wear with and without!) among others," says LoMonaco. "We currently have 12 silhouettes in multiple colorways. This summer we launched 100% linen white tees in three different necklines. A white tee is such a classic essential that our customer has told us time and time again they could never find. We set out to make the perfect versions."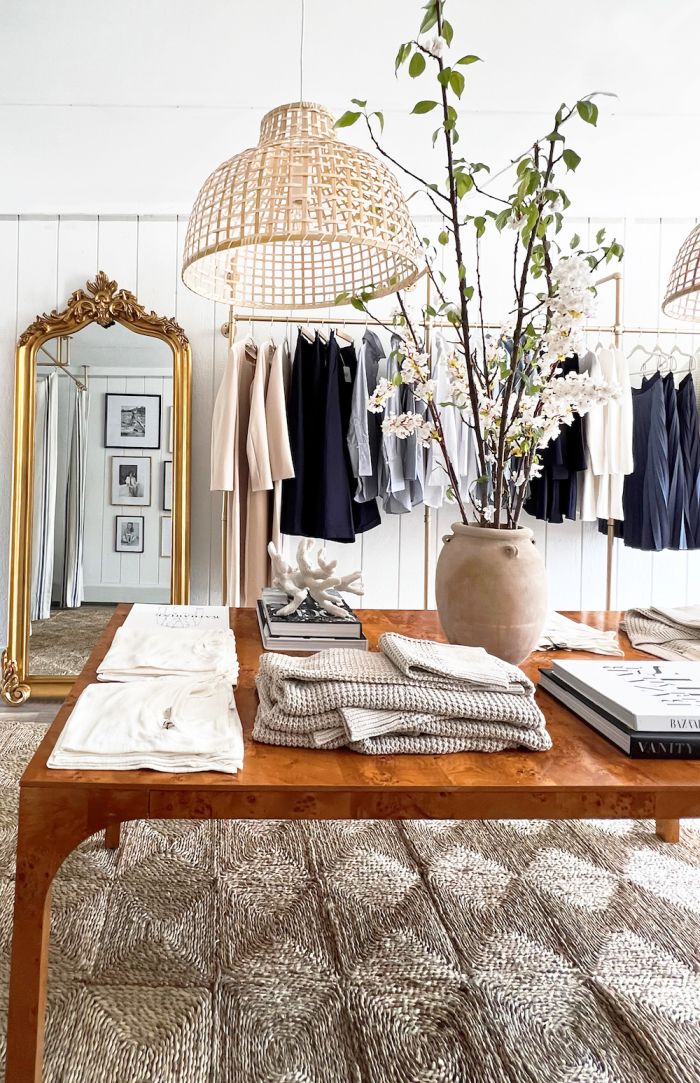 Interior, Classic Six boutique, Sag Harbor
Primarily mail order, Classic Six recently tested a pop-up in the Hamptons, the success of which has led to a brick and mortar shop in Sag Harbor. The brand is currently exploring additional boutique locations, most notably in New York City. 
"My mission is simple," says LoMonaco. "I aim to reduce fashion overwhelm, without sacrificing style. Everything we do, from design, fit and finishings to styling and accessorizing is with an intent to show you that classics are the opposite of basic."
Photos courtesy of Classic Six