Columbia Hillen
Several decades ago, the area around Yasmine Hammamet was just a stretch of open land beside the Mediterranean Sea on Tunisia's northern coast. Today it is a trendy resort with more than 40 hotels including the Alhambra Thalasso.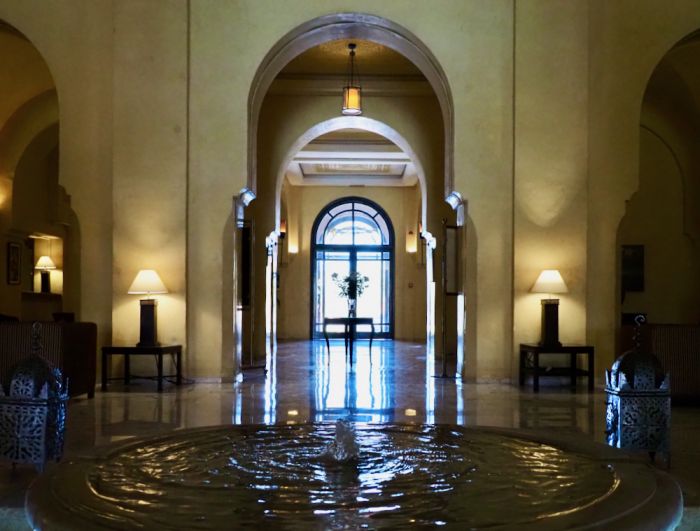 Columbia Hillen
Set amidst a garden planted with date palm, pepper, olive and ficus trees a short walk from the beach, the location of Alhambra Thalasso is an attractive one.
Inside, just beyond the reception desk, a vast atrium with ochre-colored walls towers high above in an open foyer to an intricately painted ceiling, Andalusian-style, with arches and marble columns along the sides, metal railings indicating each of the three floors of rooms.
Below is a gleaming, gray and white speckled marble floor with a central fountain with traditional decorative brass lamps around it. Plush candy-striped armchairs with plump red cushions and glass-topped tables provide abundant seating for guests to linger at leisure.
Salee Cheminee, a side room, is especially relaxing due to its soft lighting, central open fireplace, shelves of books, floor-to-ceiling curtains, lace-like stucco ceiling and gold-colored armchairs.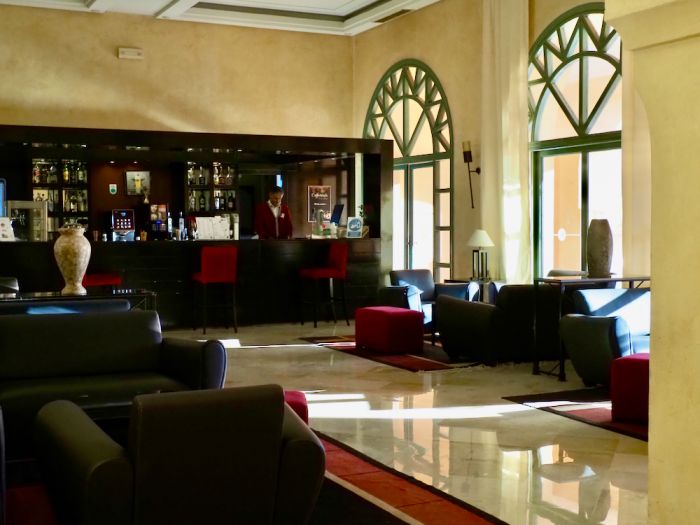 Columbia Hillen
The hotel's Bar Cordoba also offers comfortable seating with an open-air swimming pool just beyond it where the 'Seville Barbecue' offers guests the chance to dine alfresco.
Opened in 2004, Alhambra Thalasso has 184 rooms and suites, with varied views, some facing the sea, some the outdoor pool and some the hotel's front entrance.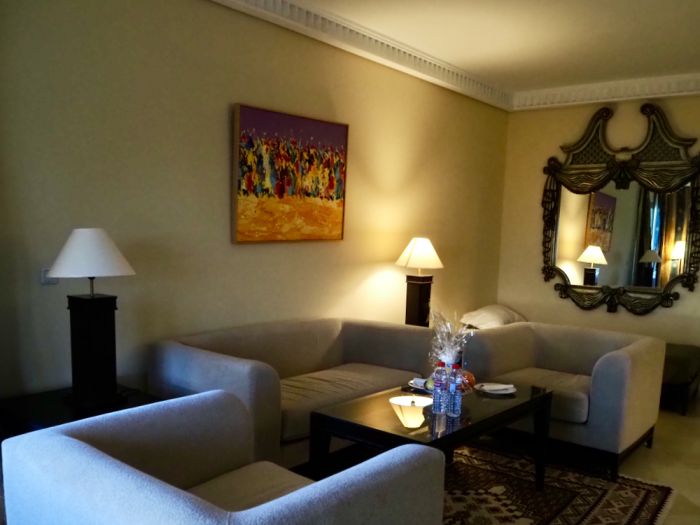 Columbia Hillen
Our room, 3007, the Philippe Gonzales Suite, named after a noted sociologist, comprised three rooms and a covered balcony adjacent to the bedroom. The living-room featured a mashrabiya, an intimate alcove facing the main road, with an oriel window and a sofa. Mashrabiyas are traditionally used as a discreet niche for Muslim women to see what was going on outside but not be seen. It has lattice windows with a floor-to-ceiling curtain for even greater privacy.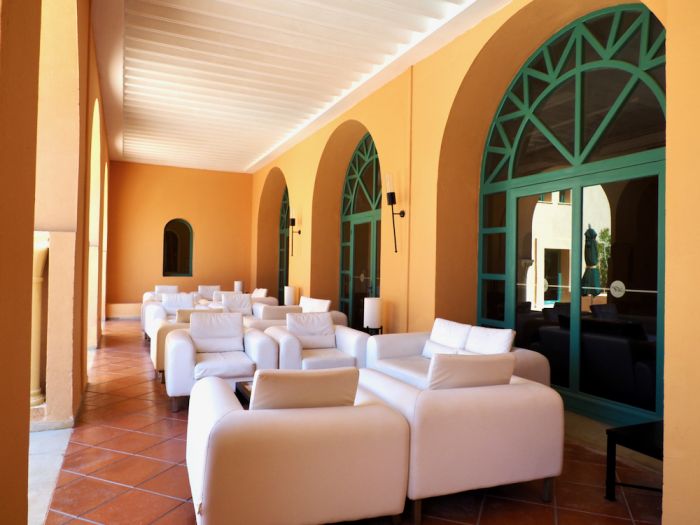 Columbia Hillen
Our living-room also featured a large almond-colored sofa with matching armchairs and two coffee tables. It was well-lit with an assortment of standing and table lamps and furnished with a decorative wall mirror, carpet and marble flooring, framed paintings on the walls and a television. The bathroom comprised twin sinks and a separate bath and shower, with the toilet in a separate room.
Columbia Hillen
While the hotel caters mainly to package tourism with a buffet-style restaurant, it also has several small conference rooms accommodating 30-50 people, and a larger hall with a capacity of around 250.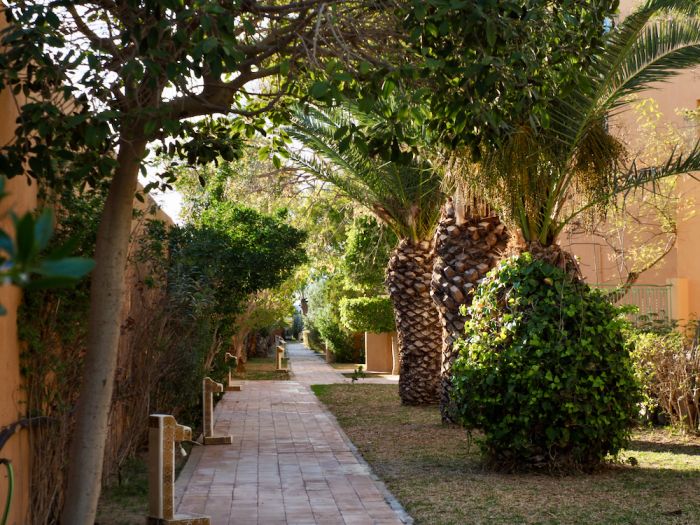 Columbia Hillen
Guests can indulge in various activities in and around the hotel. In addition to the outdoor pool in the rear courtyard, there is also an indoor one beside a grassy terrace and garden.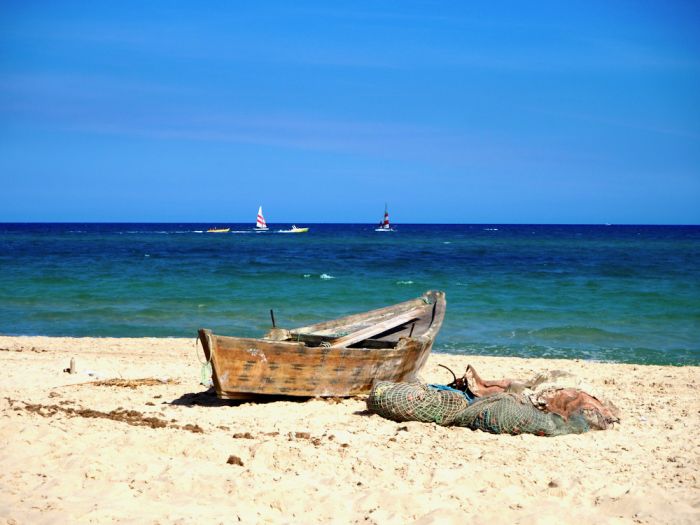 Columbia Hillen
The hotel's ground-floor Thalassotherapy Alhambra Center just off the reception area is a 4,500 square meter area with massage cabins and a seawater pool with jets, resembling a huge jacuzzi. The private soft-sand beach a short walk outside the main entrance features water sports, a pond and a playground for children.
Columbia Hillen
Yasmine Hammamet, a charming coastal town with a quaint marina lined with palm trees and cafes is a short taxi-ride away. The way to it is along a broad boulevard with impressive villa-like structures, their opulent nature reminding me of Rodeo Drive in Beverly Hills. These are the nouveau hotels that have sprung up to cater to the area's surge in tourism. Two nearby golf courses are 10 minutes away.