The best way to immerse yourself in the Pura Vida way of life, is to book a stay at one of the many wellness retreats across Costa Rica. From San Jose to Guanacaste to Nosara to Domincal to, the Osa Peninsula and more, wellness retreats in Costa Rica span from health, yoga, detox, martial arts, culinary and personal development options, allowing participants to find their true calling. The country is an ideal destination to nourish your mind, body and soul, giving each individual a chance to book the best wellness holiday in Costa Rica that suits their needs.
Whether you are going for a long weekend and only have time to plan a three-day retreat with Yoga, Magic Mushroom, and Cacao; or have the just over a week to plan for an eight day luxury spa healing and beautifying retreat; or need a real reset and want a total renewal with a 21 day yoga and detox cleanse retreat, Costa Rica has a wellness holiday for you. The country is also home to a number of remote and luxury properties that allow guests to reconnect, revive and restore.
The Retreat Costa Rica
Photo credit: The Retreat Costa Rica
Just 40 minutes from San Jose International Airport, The Retreat Costa Rica is located in one of the best climates of the world. The luxury wellness boutique resort and spa is perched upon a 60-acre quartz mountain and offers signature wellness programs and has incorporated the five key elements of Feng Shui – wood, fire, earth, water and metal – into the interior design.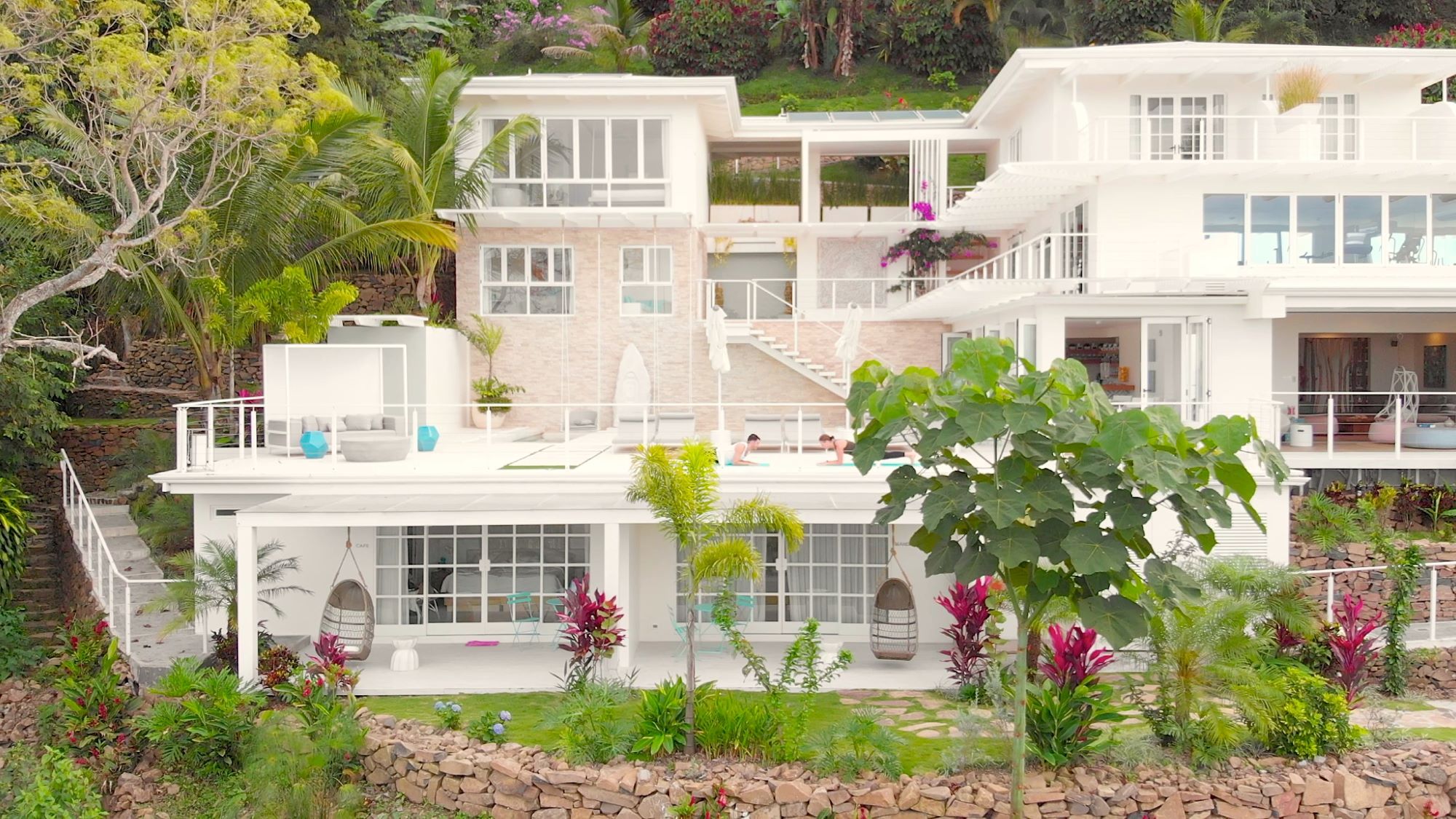 Photo credit: The Retreat Costa Rica
From simple living to healthy eating and wellness to fitness and more, they offer results-driven packages which all include three plant-based meals at Sol Terrace: Nature's Gastronomy restaurant based on an anti-inflammatory diet. Explore the biodiversity, stunning natural beauty and peaceful culture of the surrounding region from a number of excursions and when back at the property, book a treatment at Vida Mia Healing Center and Spa to connect, nurture, protect and heal the mind/body.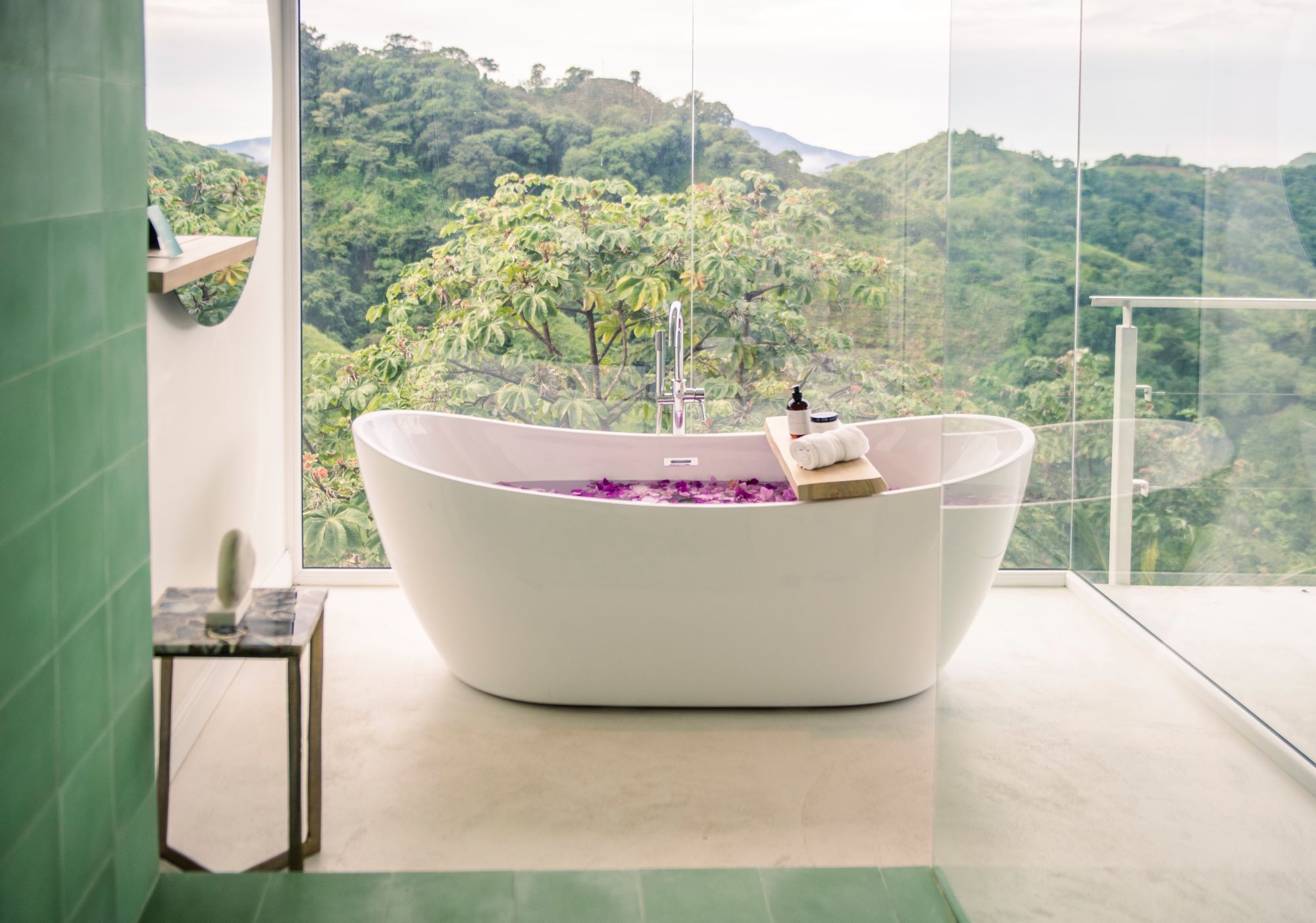 Photo credit: The Retreat Costa Rica
Each unique room is named for the plants and superfoods grown on the property. There are no phones or televisions in the rooms so as not to disturb the peaceful, natural surroundings and sounds of the birds. The bedding is lush, and their amenities organic and natural.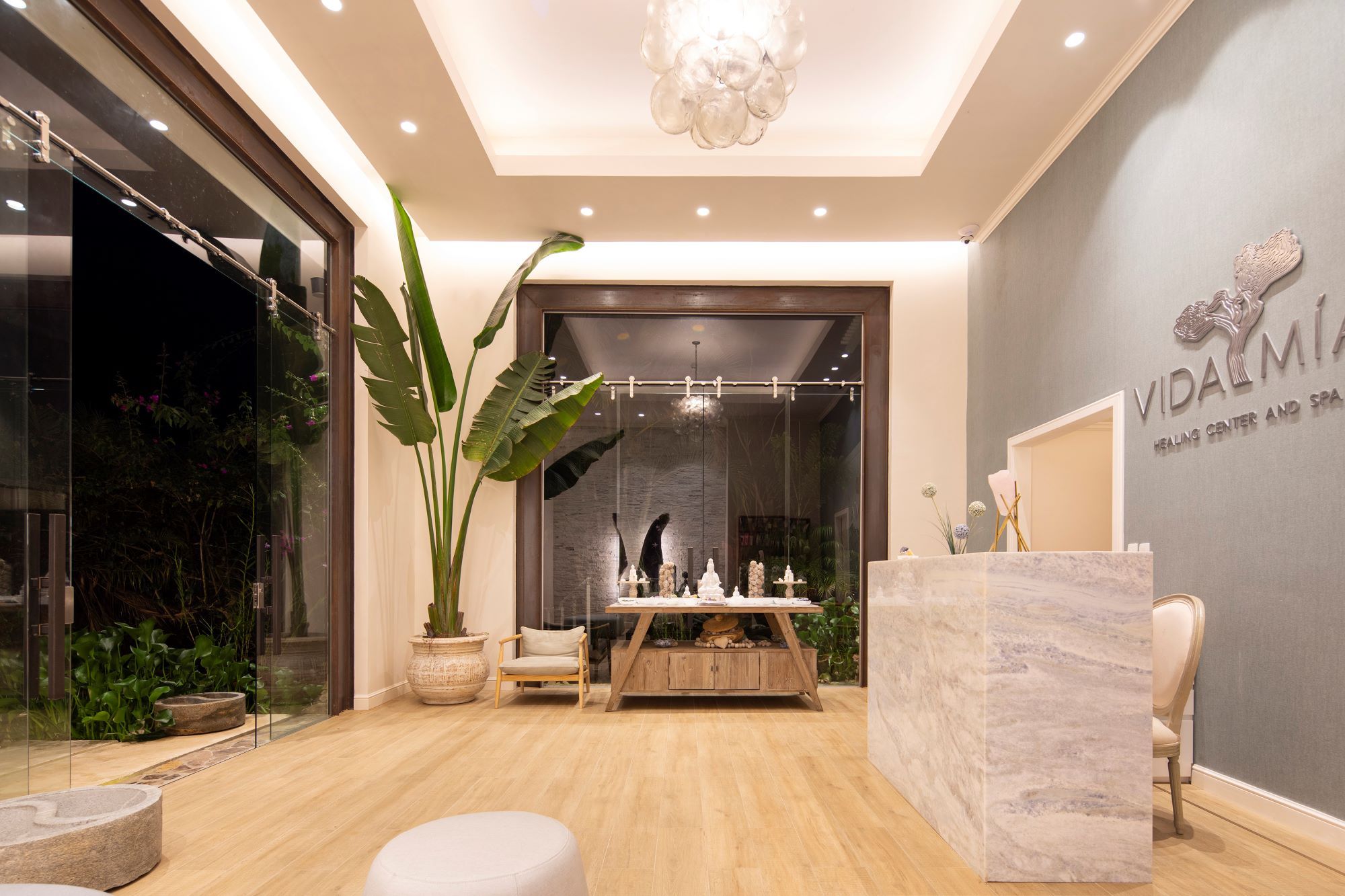 The Luxury Spa Healing and Beautifying program at The Retreat Costa Rica is designed for the pampering you deserve.
Highlights

Daily hike for detoxing and cleansing the lymphatic system

Yoga twice daily to help stretch fibrotic tissues and release toxins

2 healing food preparation classes, personalized menu

3 infrared sauna treatments for stimulating lymphatic and healing tissue – 25 minutes

1 Ayurveda restoring facial – 50 minutes, one the royal facial – 60 minutes

7 nights accommodation

Anti-inflammatory organic breakfast, lunch, and dinner
Las Catalinas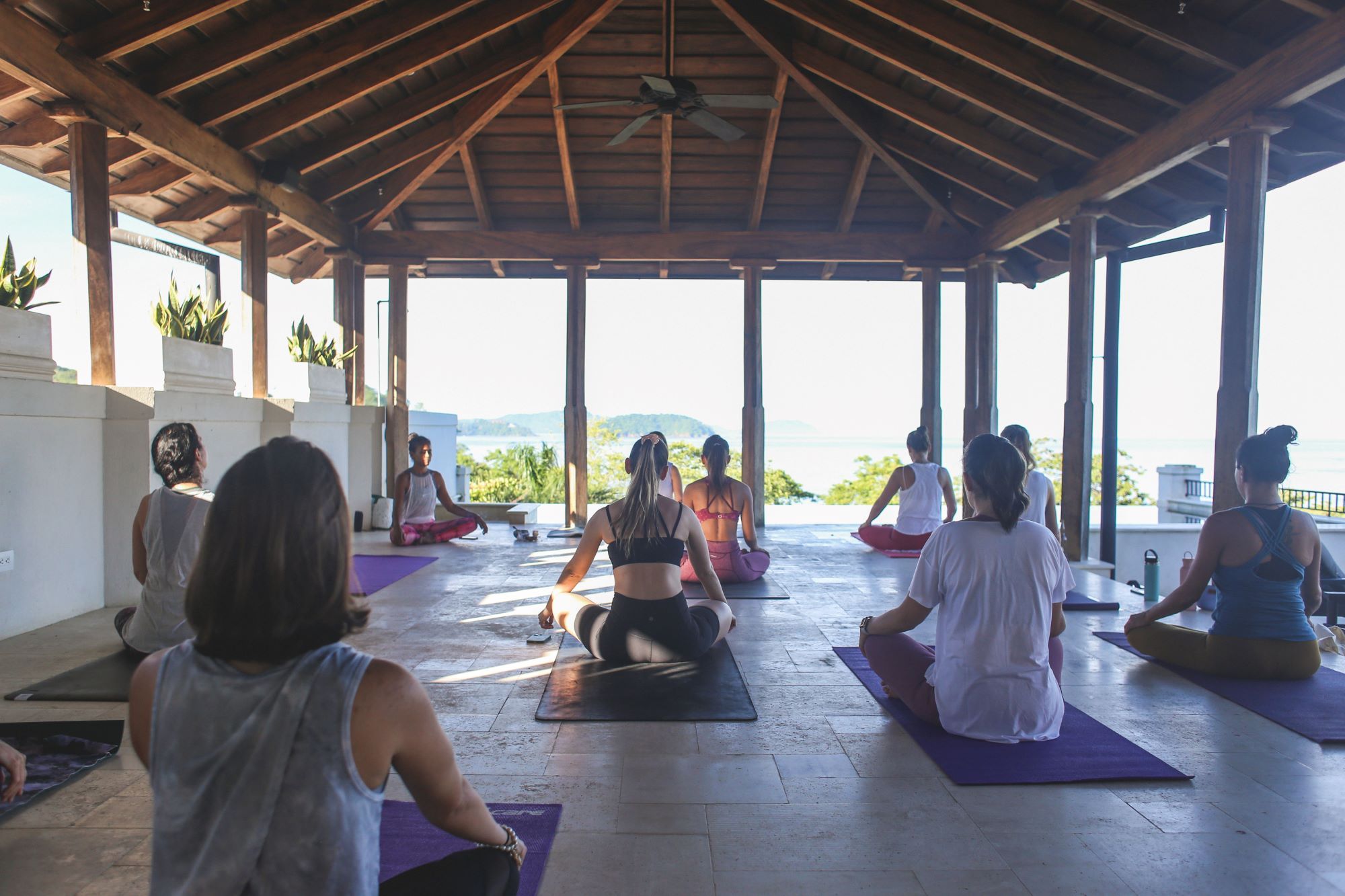 Courtesy of Las Catalinas
For wellness focused individuals looking for destinations ideal for a reset, Las Catalinas in Costa Rica can customize Re-Balance Retreats for individuals and groups optimal for restoration of the mind, body and soul. Anyone who is traveling and needs to press the reset button will benefit from these retreats as they focus on travelers' physical, mental, and spiritual health and provide participants the understanding of a better way of living.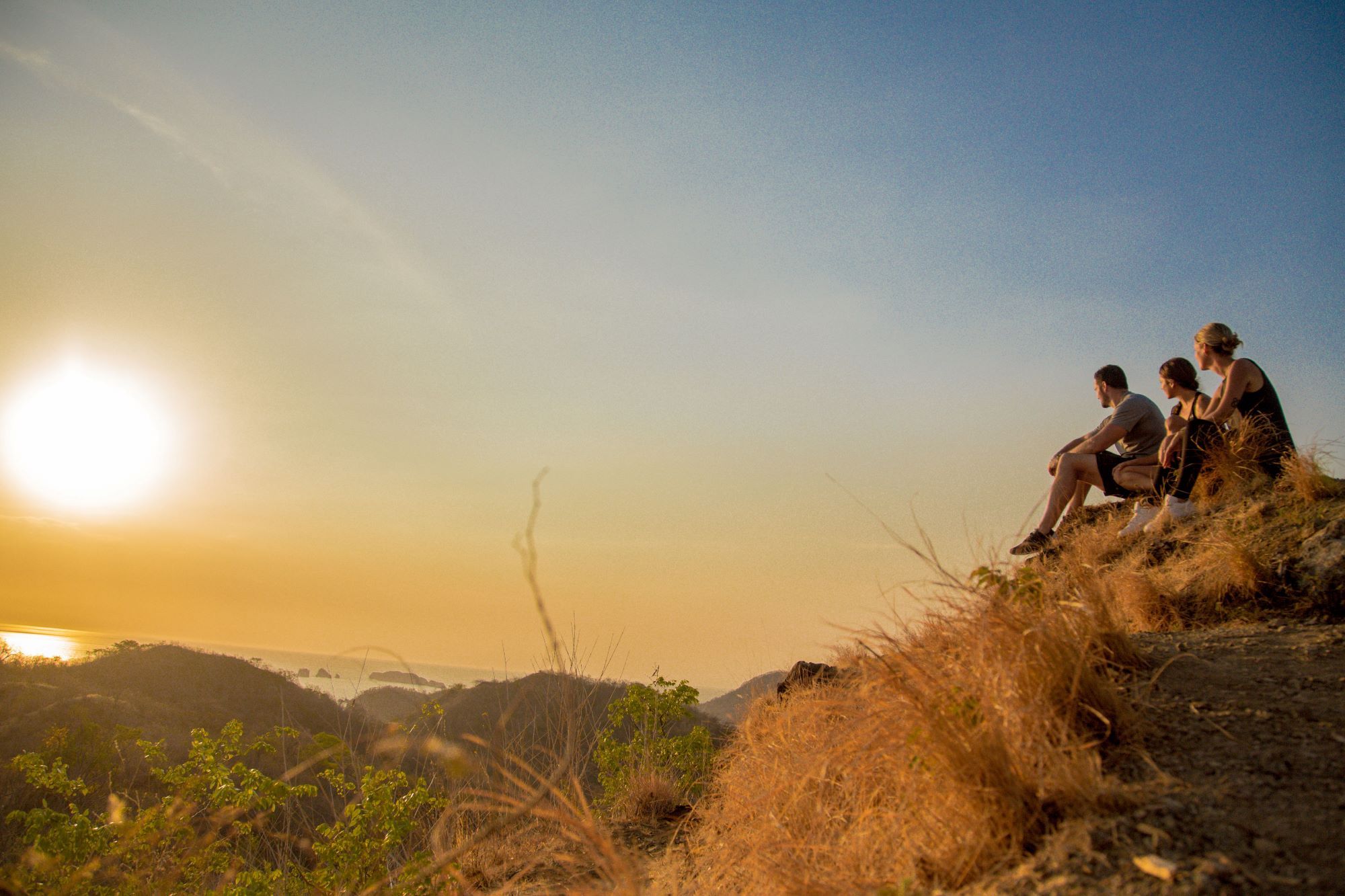 Courtesy of Las Catalinas
From morning yoga on Santarena Hotel's rooftop with a beautiful ocean view to a sound healing journey at Center of Joy and guided meditations, visualizations and talks, the retreat includes an abundance of other wellness-focused activities. Get private training classes at CORE by Chakfitness outdoor gym, massage and facials at WAKE Day Spa, rent mountain bikes, kayaks and SUPs at Pura Vida Ride, hike or run on the extensive trail system and explore this burgeoning wellness location.

Nayara Resorts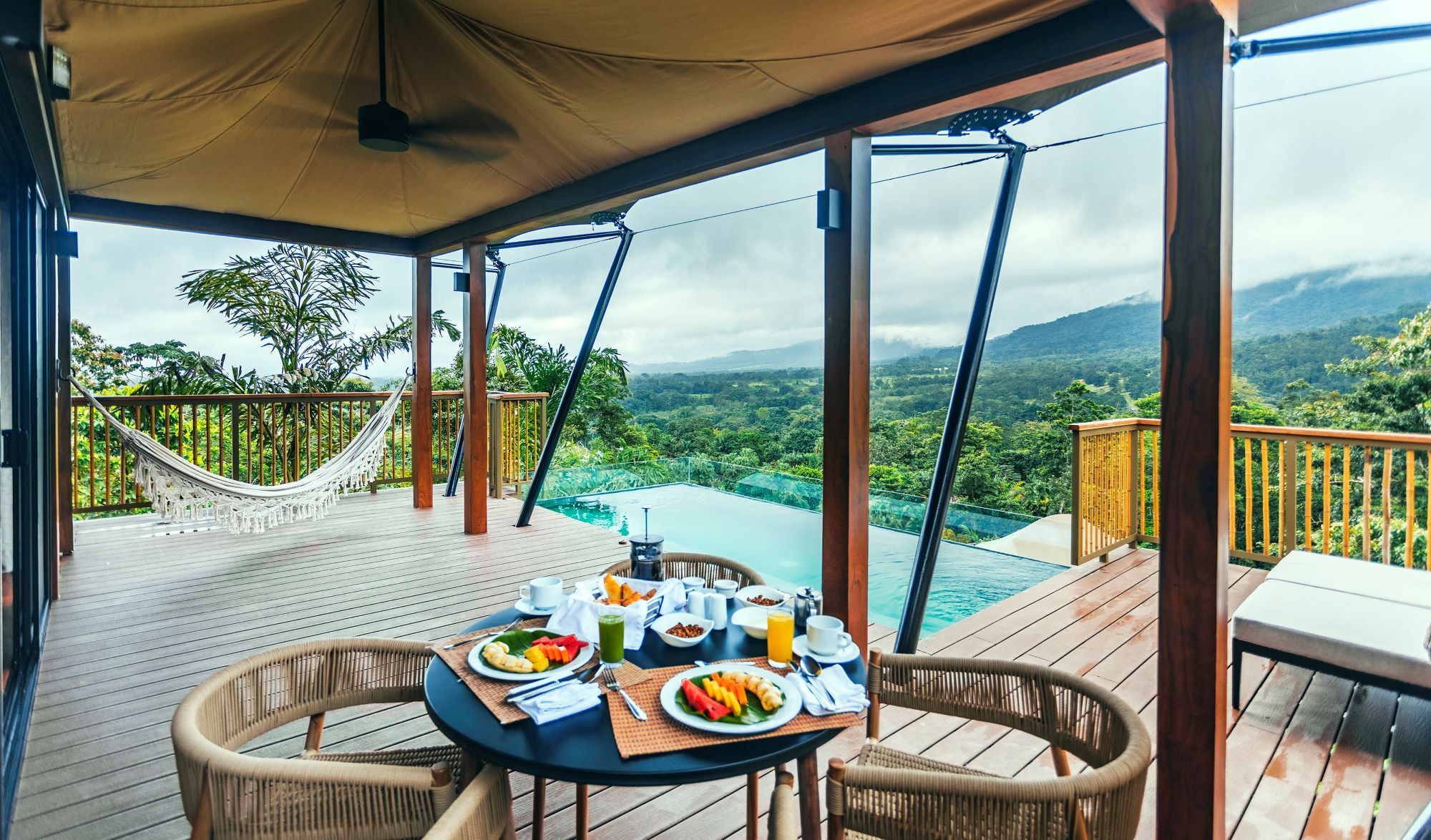 The wellness program at Nayara Resorts was inspired by the four elements – fire, water, earth, and air – and was designed to help guests form a connection with each individual element. Located in Costa Rica, the three resorts (Nayara Tented Camp, Nayara Springs, and Nayara Gardens) provide the perfect, relaxing atmosphere to spend time on one's physical and spiritual wellbeing.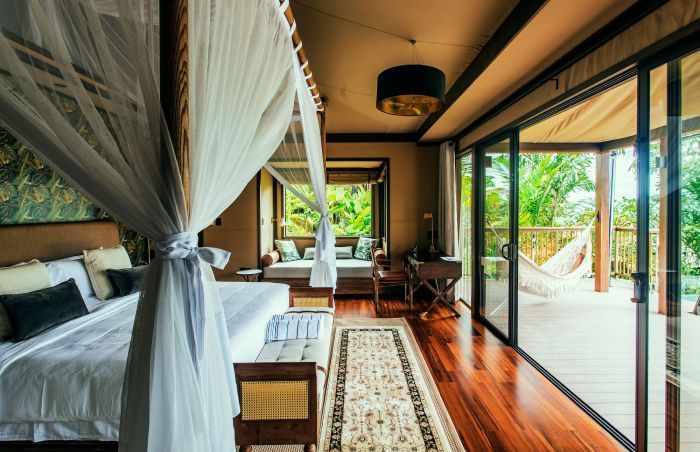 By choosing a wellness vacation with Nayara, guests can escape and kickstart a healthier lifestyle with activities ranging from yoga, meditation, sound therapy and spa treatments, along with Ayurvedic-inspired meals and detox juices.
Auberge Resorts Collection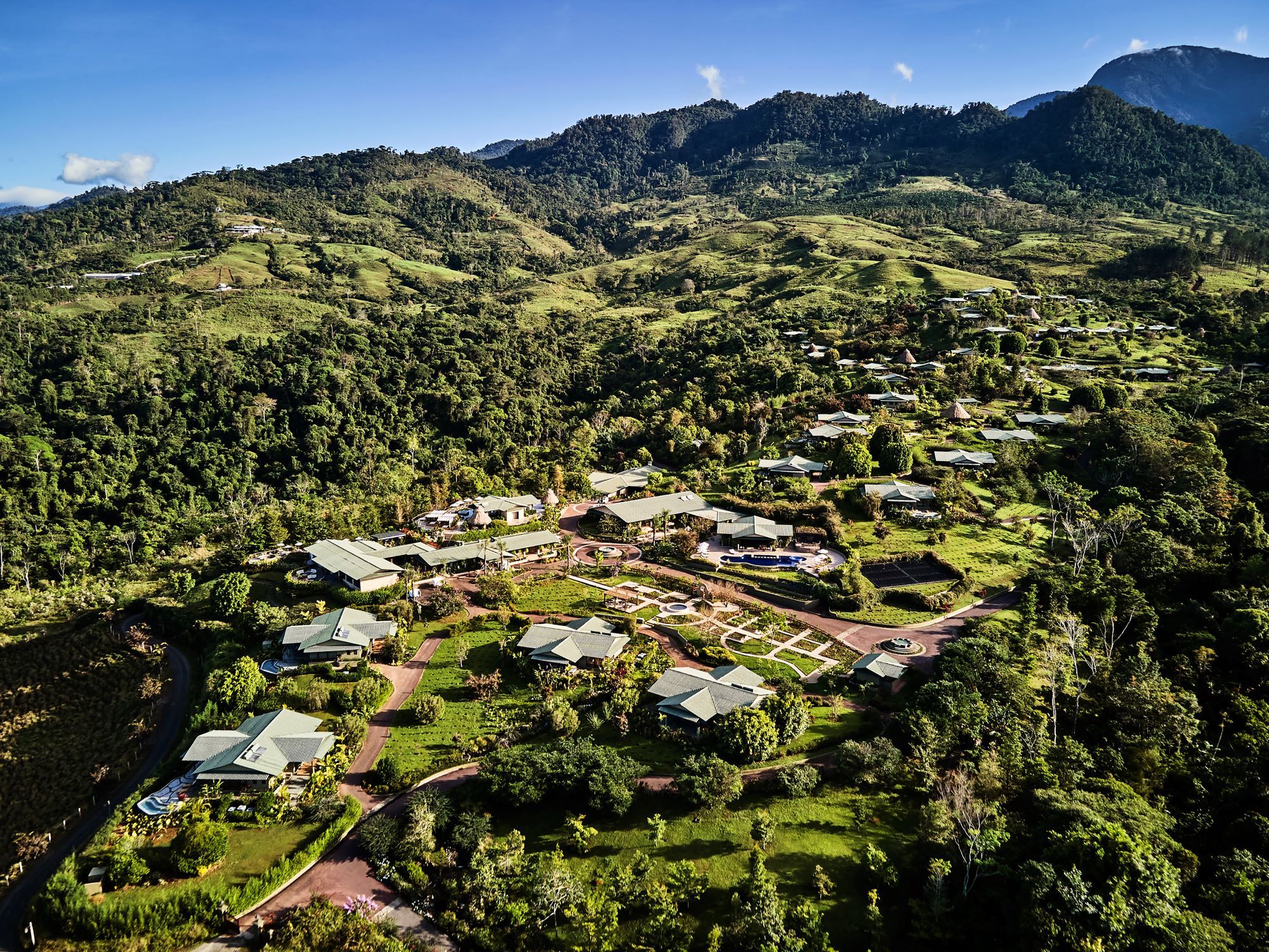 Photo Credit: Auberge Resorts Collection
Perched above the Costa Rican hills, Hacienda AltaGracia, Auberge Resorts Collection is an all-inclusive gem allowing guests to get pampered in style. From mindful movement classes, spa sessions, culinary adventures and thrilling excursions, the resort draws from time-proven traditions and cutting-edge science to promote renewal for guests. Both on-property and at THE WELL, guests are encouraged to live in mindfulness to release old patterns, clear the mind and restore balance.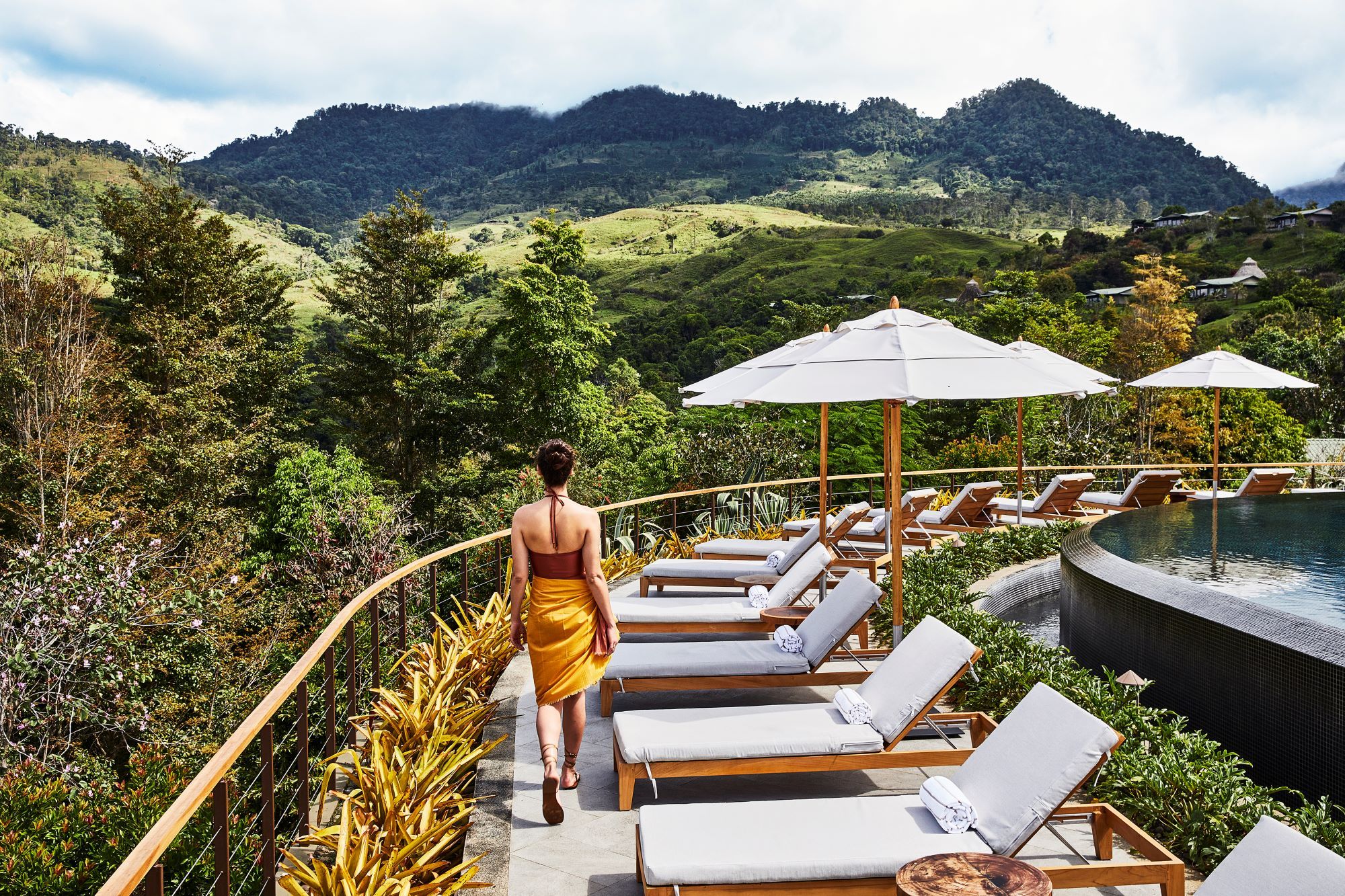 Photo Credit: Auberge Resorts Collection
Your stay at Hacienda AltaGracia is inclusive of all meals and non-alcoholic beverages, Mindful Movement classes, access to exclusive resort amenities and a calendar of daily programming complemented by bespoke itineraries featuring adventure, wellness and cultural activities. 

Kinkara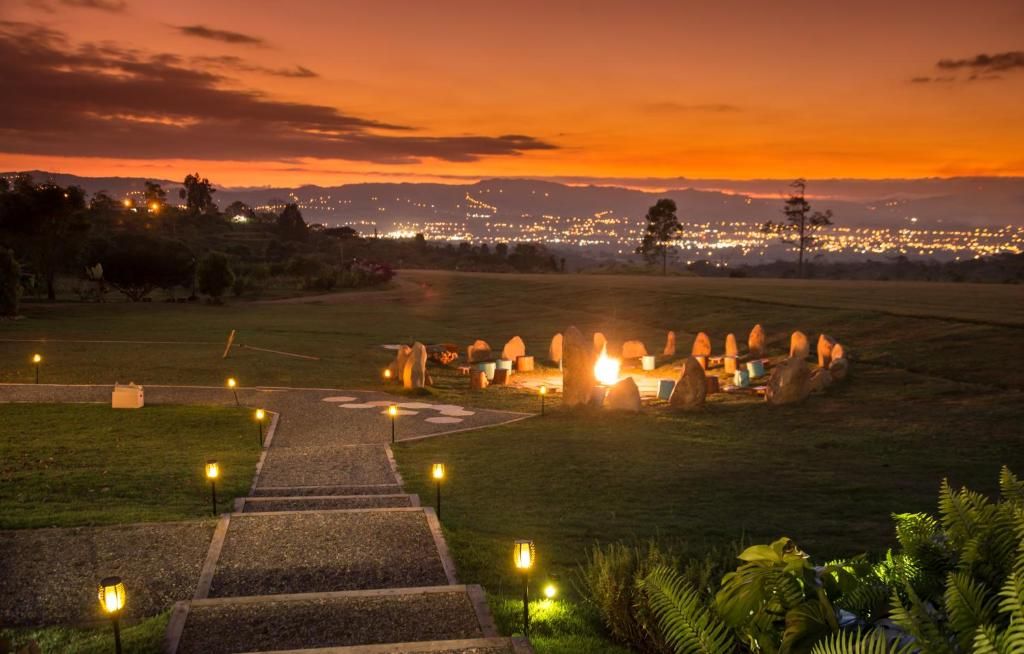 Photo Credit: Kinkara
Set at the foot of Mt. Chirripó in Costa Rica's biodiverse Southern Zone, Kinkara is an immersive luxury resort for personal relaxation and collective group adventures. Offering moments of self-discovery and amazing connections with nature – like swimming in a jungle waterfall – Kinkara is an experiential luxury resort for one-of-a-kind activities. The 800-acre property offers all types of guided adventures during guests' stay and presents a wellness path that draws on nature's age-old wisdom for restorative experiences.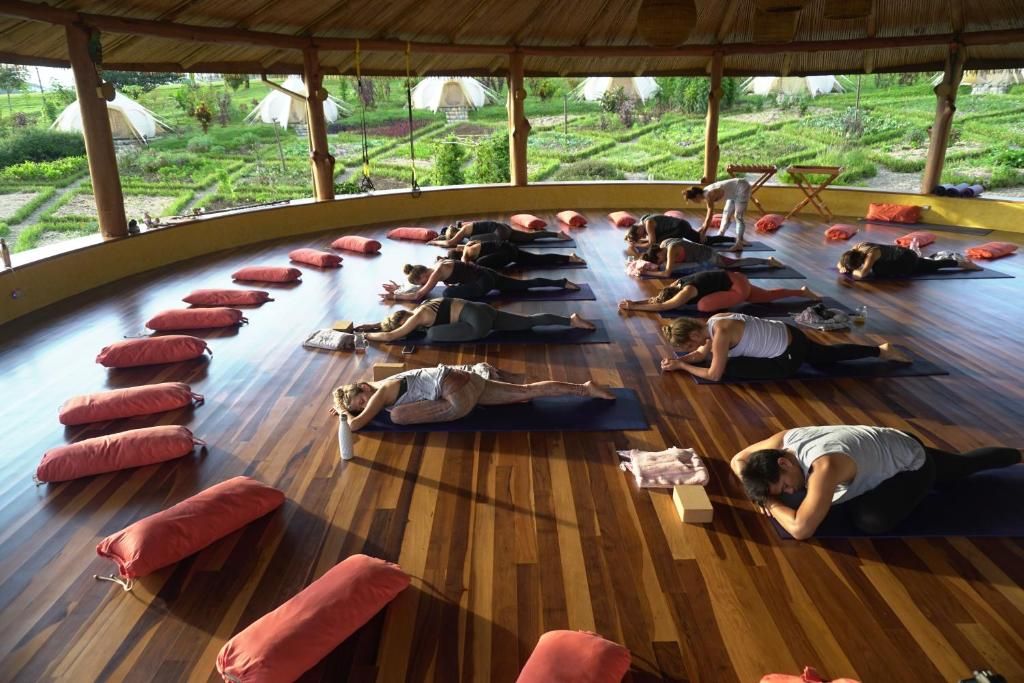 Photo Credit: Kinkara
Crafted to promote a deep sense of rest, relaxation and restoration from yoga on their airy pavilion to a Temazcal-Inspired sweat ceremony to fitness sessions and more, their immersive experiences are fully customizable. Choose from their Water, Earth, Fire or Wind Package, or craft your own based on your needs.
*This post contains affiliate links, so we may earn a small commission when you make a purchase through links on our site at no additional cost to you.