1Hotel Hanalei Bay
The former St. Regis Princeville Hotel on the Hawaiian island of Kaua'i, is now the spectacular new 1Hotel Hanalei Bay.  
After a $300 million imaginative transformation, this new tropical sanctuary appeals to guests' senses in beauty and special immersive programs to help enrich their Hawaiian vacation experience.
"Hanalei Bay is the culmination of everything we've sought to achieve with the 1 Hotels brand," said 1 Hotels' Founder and Chairman Barry Sternlicht. "What makes the opening of this property such a special moment for me is that my family and I vacationed in the area for decades. When I first visited, I found the existing hotel not in keeping with its natural landscape. I had a vision of creating an extraordinary resort that would combine the magic of a lush native landscape with the region's rich culture and history. We've brought that vision to life with a unique hospitality experience that pays tribute to these wonderful local traditions where nature is the CEO, where the building integrates with the boundless beauty of its surroundings, and all our guests can experience the wellness, soothing and healing properties of the extraordinary island of Kauai."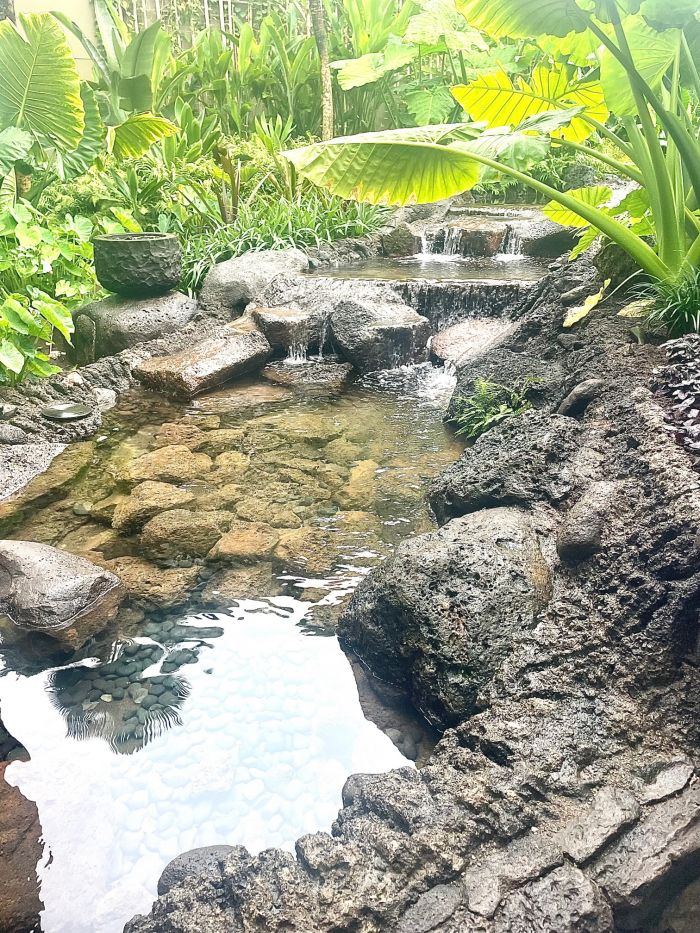 1 Hotel Hanalei Bay – Photo Jill Weinlein
As guests leave their car under the porte-cochere to step into the grand entrance of the hotel, they will immediately notice the reception and open-air entranceway.
Trickling streams, waterfalls and gardens are set among indigenous and endemic gardens. Green vines soften the new low-impact wood structure illuminated in natural light.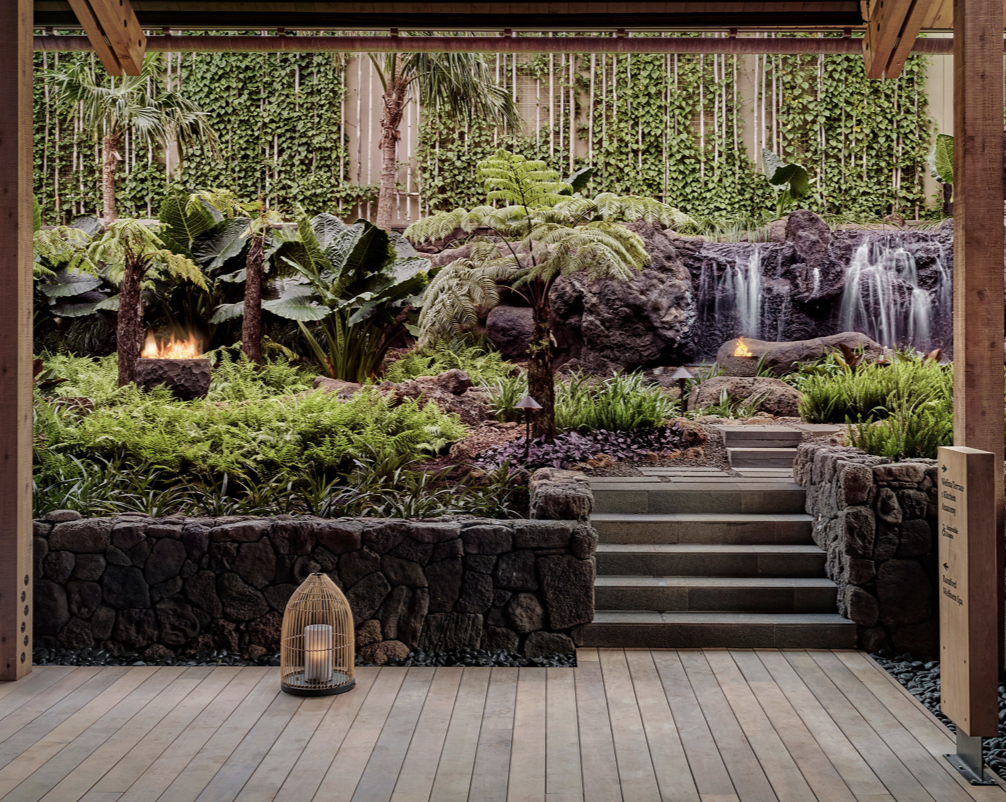 1Hotel Hanalei Bay
The inspiration for the biophilic design is to reconnect guests to nature. The new exterior color of the hotel blends the resort beautifully into the cliffside.
Opting for reconstruction instead of new construction enabled opening up the resort to the sky. The resort warmly embraces the serene natural surroundings by removing most of the original entrance. 
Nearly a third of the site has native and adapted vegetation. Non-native and invasive plants were replaced with wildlife-friendly vegetation that includes white hibiscus and nau to provide beauty.
Locally sourced reclaimed teak joists and flooring, puka lava stone walls, and hand-woven natural leaf fibers harvested from a cousin of the banana tree create beauty everywhere one looks.
1Hotel Hanalei Bay – Photo Jill Weinlein
This Hawaiian oasis offers 252 nature-inspired guestrooms, including 51 luxury suites. Some of the exquisite design features include hand-woven floors fashioned from local black basalt, reclaimed teak and abaca furniture, and traditional punai daybeds out on verandas. Pillow top beds and sustainably sourced bedding provide restful sleep.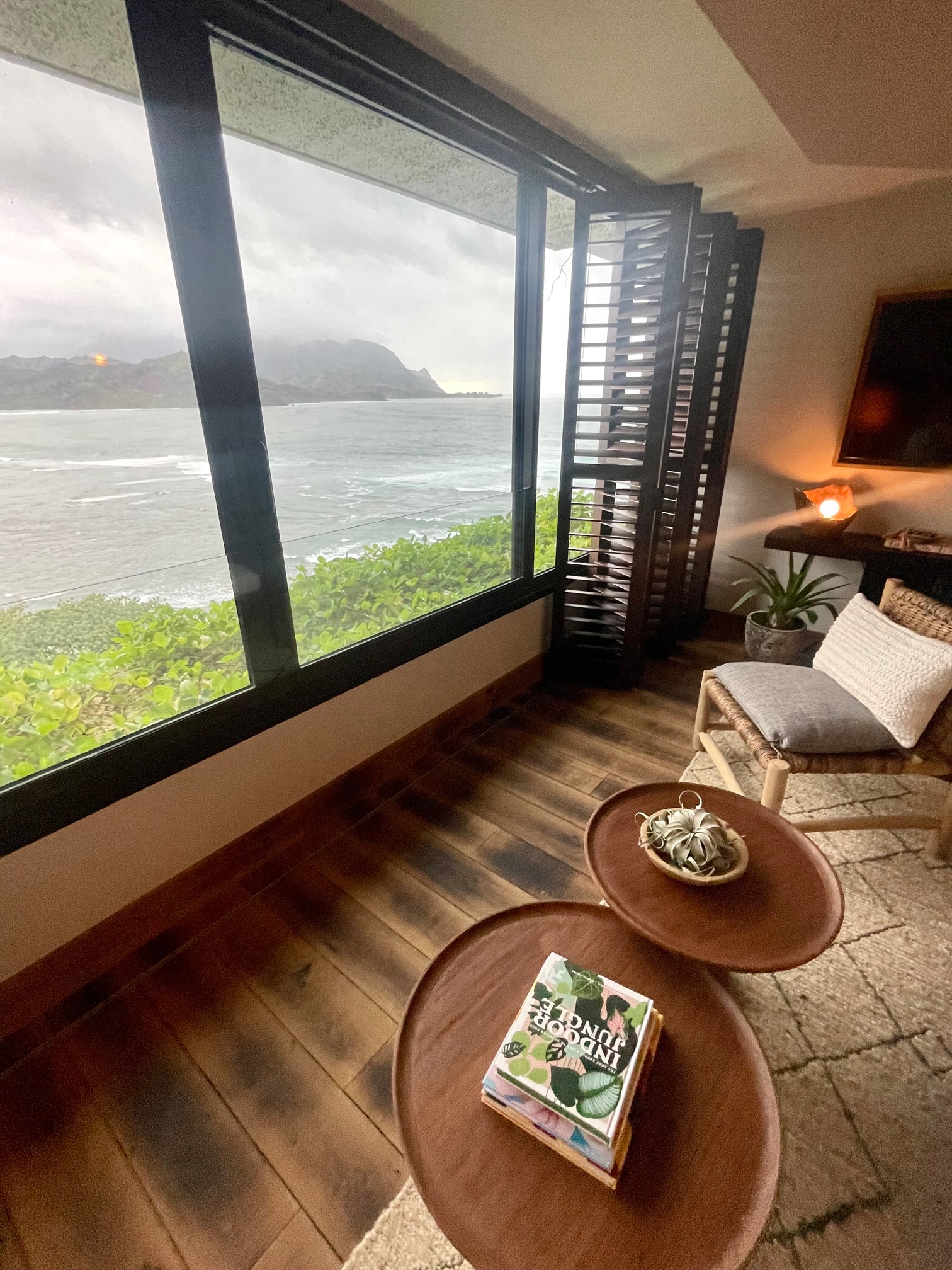 1Hotel Hanalei Bay – Photo Jill Weinlein
The interior design details lend the eye to a framed panoramic view of the bay and mountains. Veranda doors and windows can be opened to allow warm and fragrant breezes inside.
Three spectacular signature suites include the 1,789 sq ft., two-story Pu'u Poa Ocean Loft Suite. The downstairs has a spacious and comfortable living room with a sleeper sofa, plus a kitchenette and private terrace. Upstairs is a loft ensuite with a large closet.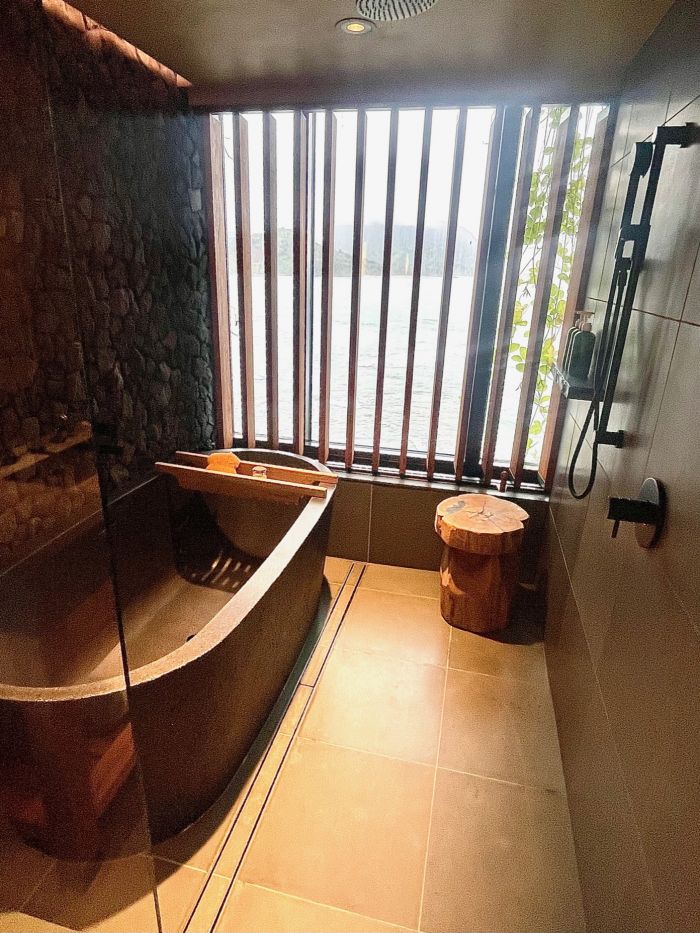 1Hotel Hanalei Bay – Photo Jill Weinlein
Suite bathrooms have a separate rain shower and deep soaking tub with a window looking out to picturesque Kaua'i island views.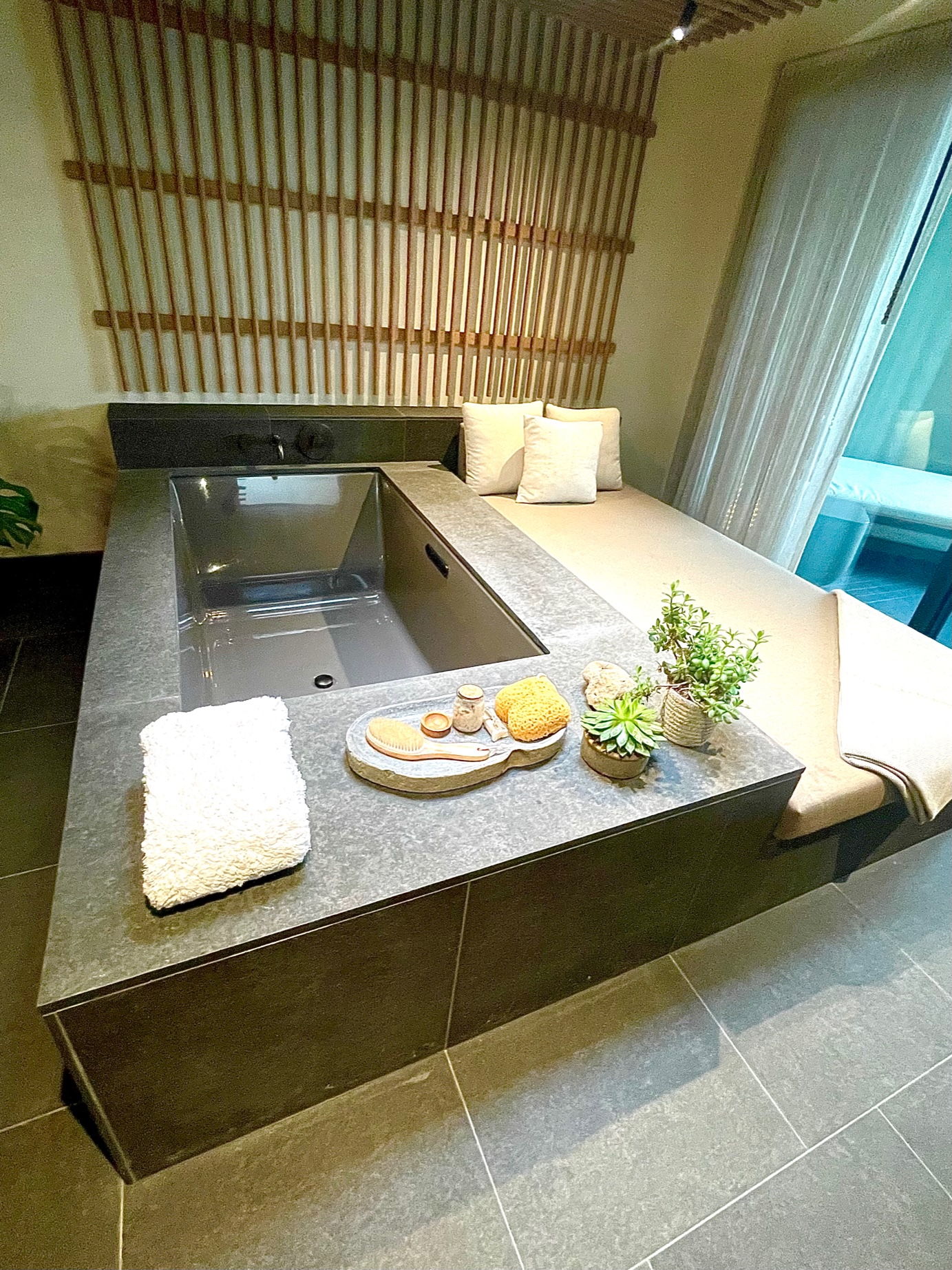 Other suites include the Napali House Suite and Makana Penthouse. Those seeking larger accommodations can stay in the connecting Makana Penthouse and Ocean View with two Queen beds. With almost 3,000 sq. ft, it's an ideal Hanalei hideaway offering privacy, ultimate views and amenities.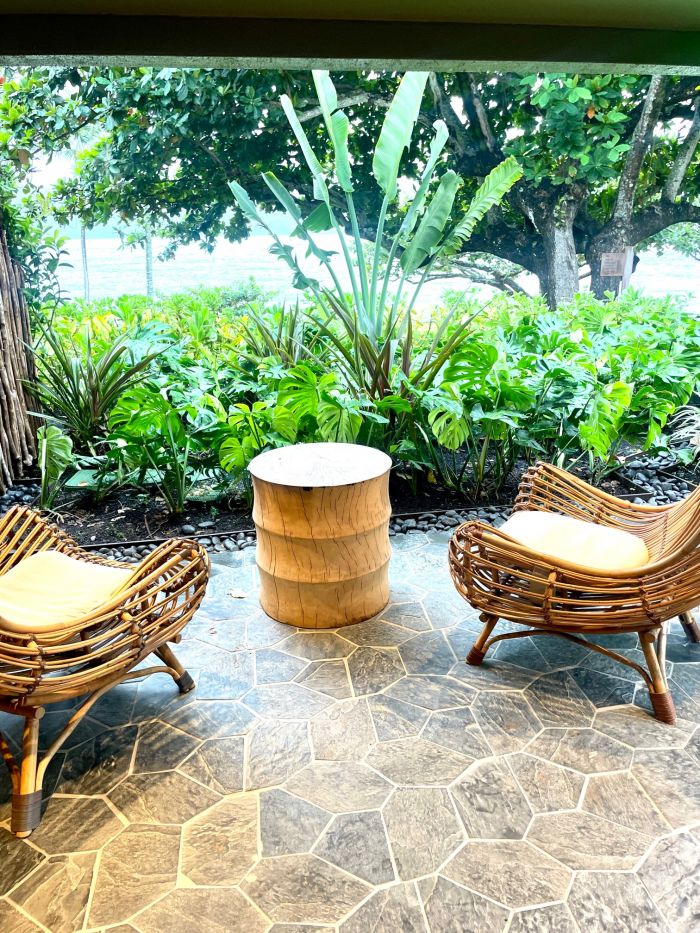 1Hotel Hanaeli Bay
Terrace rooms offer inspired design elements that provide a seamless connection to nature. Guests on the ground floor have easy access to the main swimming pool.
Views on the ground-level rooms include tree canopies filled with native bird-and-bee-friendly candlenuts (kukui), large breadfruit (ulu) and pretty banana (maia) trees, bearing an abundance of fruit served fresh to guests in cocktails and the dining venues.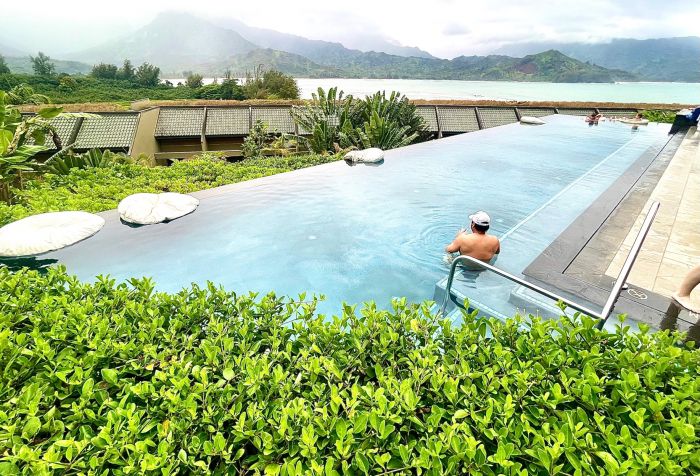 1Hotel Hanalei Bay – Photo Jill Weinlein
One of the best places to take in the dramatic views of the peaks of Namolokama and Mamalahoa mountains is at the new adult-only saline swimming pool. There are two other swimming pools including the beach level main swimming pool. It's a sustainable sanctuary where guests can swim, snorkel, paddle, kayak, soak up the sun and surf off a legendary beach.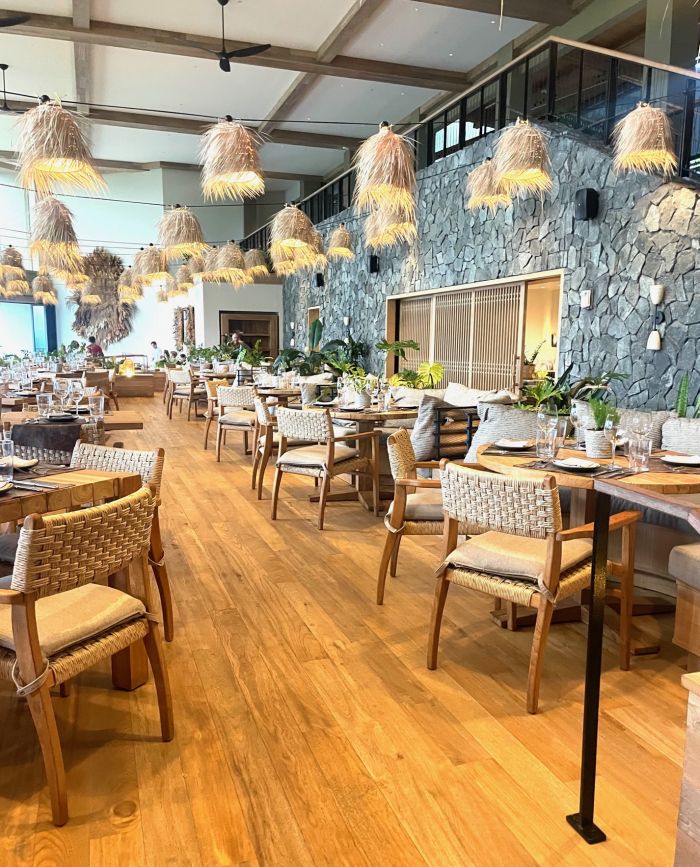 1Hotel Hanalei Bay 1 Kitchen – Photo by Jill Weinlein
There are seven sustainable food venues at 1Hotel Hanalei Bay. The menus support the rich local culture sourcing produce and proteins from Kauai and neighboring islands. All menus feature the freshest organic ingredients, with many grown in our on-site chef's garden and apiaries. Community farms and local fishers and purveyors harvest ingredients for the resort's culturally attuned chefs.
Dining options include the picturesque hanging baskets and soaring ceiling at 1 Kitchen for all-day menu favorites.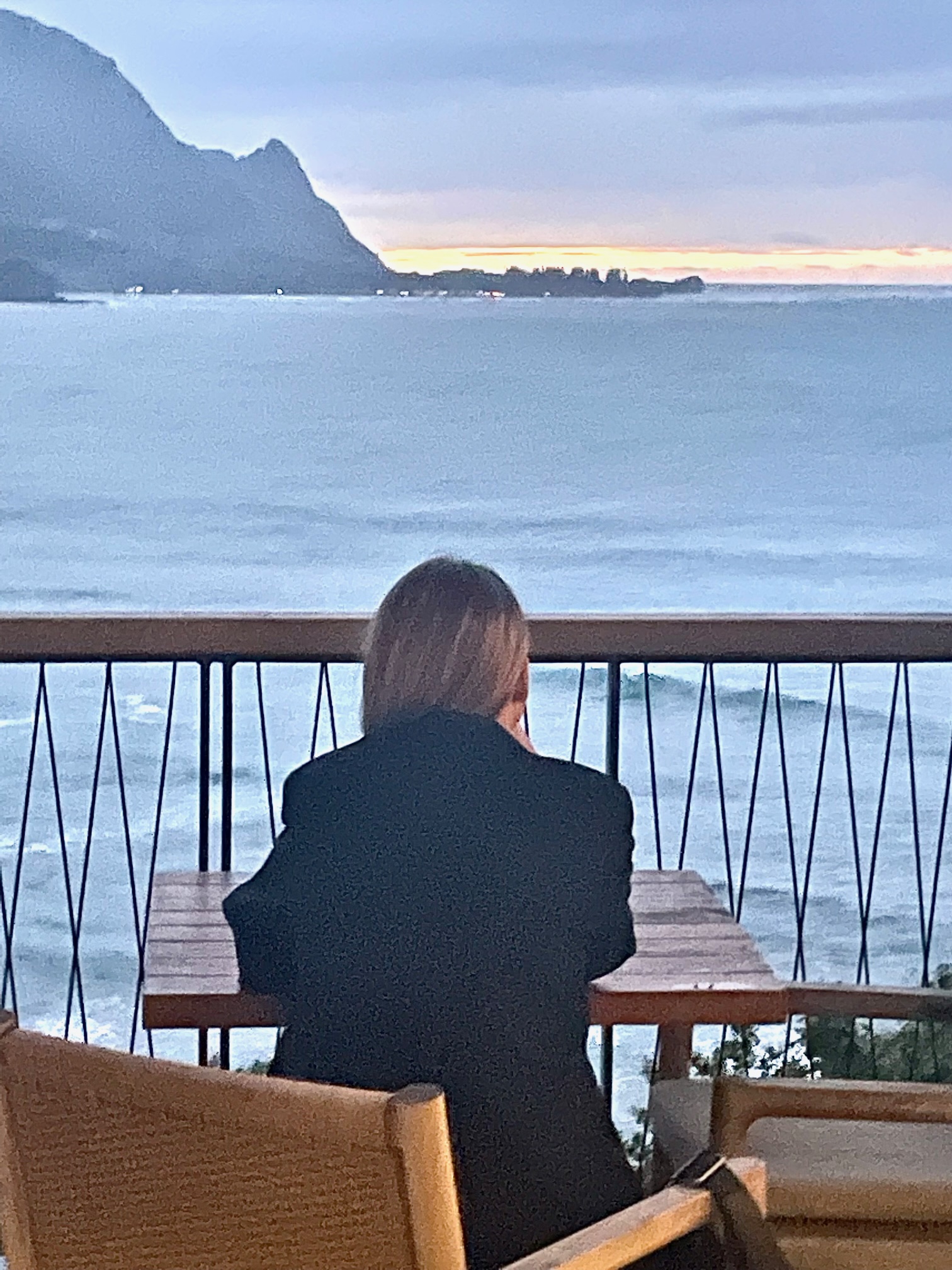 1Hotel Hanalei Bay – Photo Jill Weinlein
The Welina Terrace celebrates Hawaii's multi-cultural heritage through live music, modern Japanese cuisine and a nightly fire show at sunset.
The long bar in the center of the lounge prepares one of the best Mai-Tai cocktails in Hanalei. Local beer, international wines and sakes are also paired with pu-pu platters, sushi and other Hawaiian delights.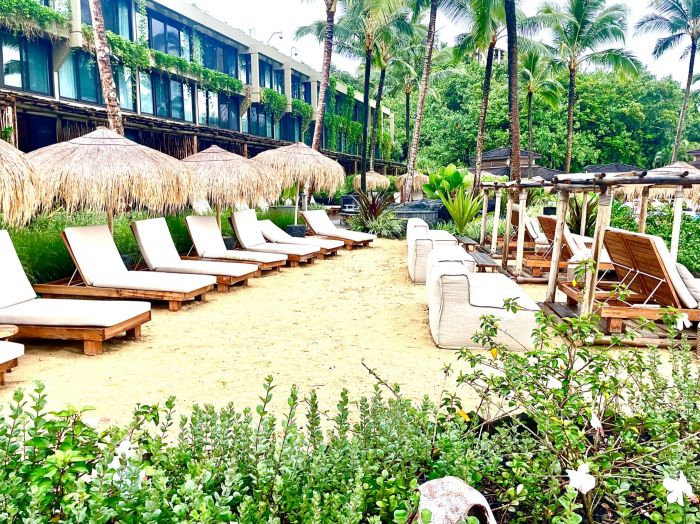 1Hotel Hanalei Bay – Photo Jill Weinlein
Couples and families enjoy the poolside dining opportunities at the Main Pool's The Sandbox. Other venues include snacks at Kai Maikai; Neighbors all-day grab-and-go items; Waioli for shaved ice desserts; The Juice Bar; and the Lobby's Farmstand for daily fare and local produce.
To assure that all guests have access to the wide range of experiences offered, the resort does not include any hidden resort fees in pricing. Not only does this provide clarity and stress-free travel planning, it allows guests to relax and enjoy what they want to do on their vacation.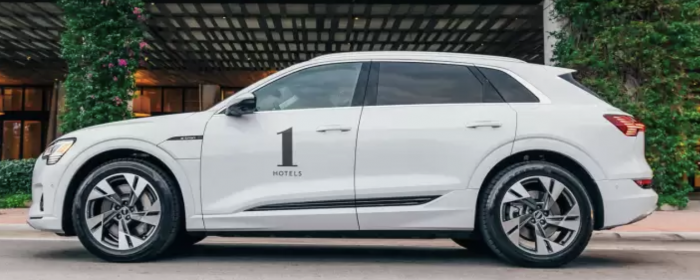 1Hotel Hanalei Bay – Photo Jill Weinlein
To preserve the beauty of the island, 1Hotel Hanalei Bay collaborates with Audi, offering Audi e-tron electric cars as the official house car to take guests to local venues, and for guests to test-drive during their stay.  
Guests looking to explore Princeville Village can take one of e-bikes, and team members can provide a curated trail for an immersive ride.
1Hotel Hanalei Bay offers unforgettable wellness experiences to those who seek relaxation and to those looking to awaken their senses. Resort team members will happily curate bespoke island journeys such as surf lessons, hiking reservations to see the Napali Coast, and where to find the best snorkel beaches on the North Shore of Kauai.