(credit: photo by Yan Krukau)
When a new baby enters your life, it is an exciting, stressful, but fun time for everyone involved. While friends, grandparents and other loved ones swing by for a brief hello and to meet your child, you as parents are stuck with the heavy lifting. When gifts come showering in, the focus is typically on the newborn. But we took another approach and found some special gifts (yes still for the newborn) that make parents' lives much easier. So whether you're shopping for a brother, sister, cousin or best friend, here are some of our best gift ideas for new parents.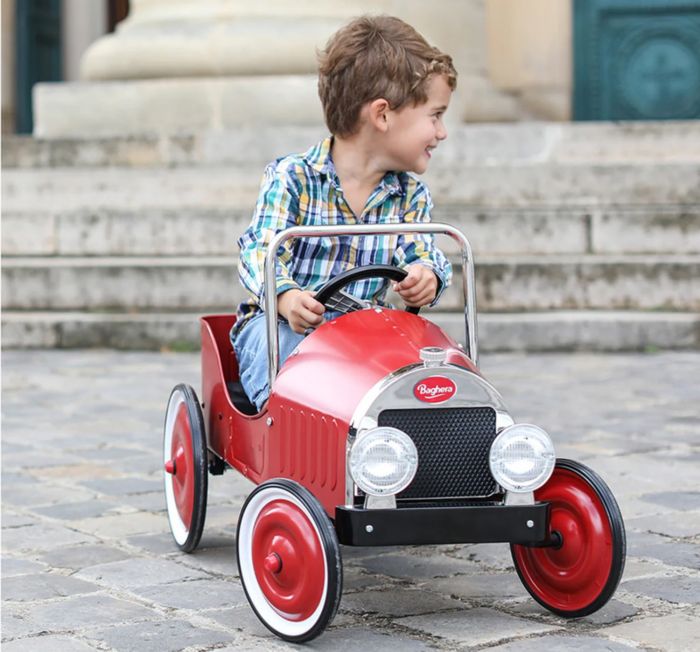 (credit: Adventuretown Toy Emporium)
Adventuretown Toy Emporium's Classic 1920s Pedal Car ($400)
Both you and your little one can enjoy this nostalgic and expertly crafted gift. Made in France and available in red, white, green and blue, this pint-sized pedal car will put a smile on your children's face as they roll down the sidewalk in style. Based on elegant cars from the 1920s, your little one will be the envy of all other neighborhood children as he or she will be rolling around in true style. Recommended for ages three to six, this car is shipped directly from the manufacturer and requires assembly once received.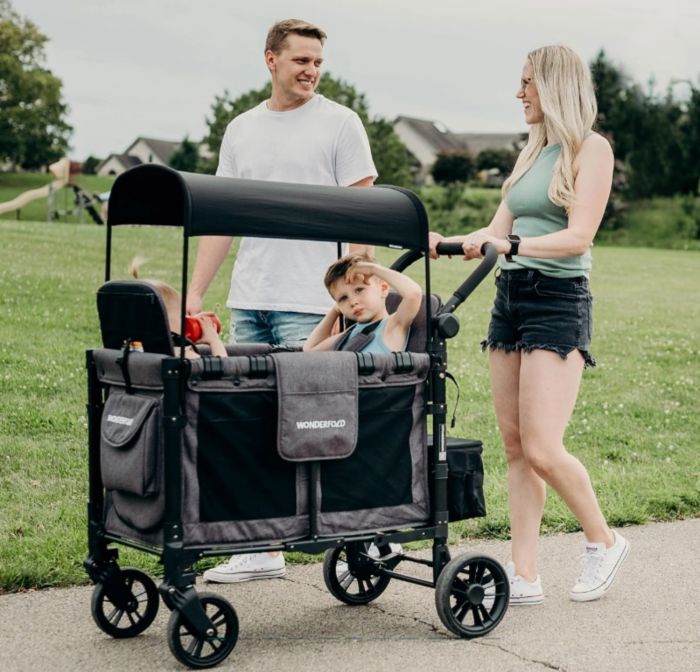 (credit: WonderFold)
WonderFold W2 Elite Stroller Wagon ($529)
This stroller wagon folds down for easy travel and more adventures and has a ton of storage space to ensure you don't forget anything on your next family outing. Holding two kids in removable raised seats (with a five-point safety harness) that recline, the versatile wagon stroller has loads of storage space including pockets on all sides and a removable rear basket to hold all of your essentials. The W2 is equipped with all-terrain wheels, an adjustable push handle and an easy-to-use one-step foot break to help make parents' lives easier and keep kids safe. Available in black and gray with an adjustable and removable protected UV canopy, take on any of life's adventures comfortably.
(credit: CuboAi)
CuboAi Smart Health Bundle $459
Nothing is more important than keeping your baby safe, and with the CuboAi Smart Health Bundle, parents won't miss a beat. Along with the CuboAi Plus Smart Baby Monitor (with floor stand, crib mount and mobile stand) which uses computer vision to watch over your baby, the bundle includes the CuboAi Sleep Sensor Pad and Smart Temp device. Parents can now be at ease as through the app you are able to monitor your baby's breathing motions and body temperature in real time. Along with capturing sleep analytics, other features include: AI covered-face and rollover detection, true cry detection, cough detection and danger zone detection, where parents can mark areas in their homes that the baby shouldn't be.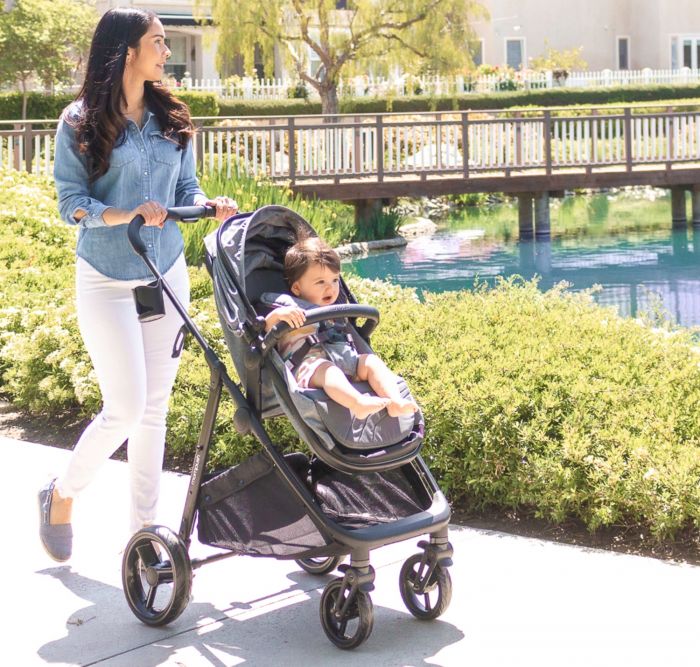 (credit: TLK Fusion)
Mompush Ultimate 2 Bassinet & Stroller set ($389.99)
From the company that understands the needs of modern parents, the Mompush Ultimate 2 Stroller is a premium reversible full-size stroller that goes above and beyond to meet all your parenting needs. Available in seven colors and suitable from infancy to toddlerhood, this well-made, multi-functional stroller offers superior comfort and adaptability as well as the convenience of integrating the stroller and infant car seat with ease. Easily switch between the bassinet and regular seat add on their Stroller Organizer ($29.99) for all of your essentials while out for a stroll with your little one.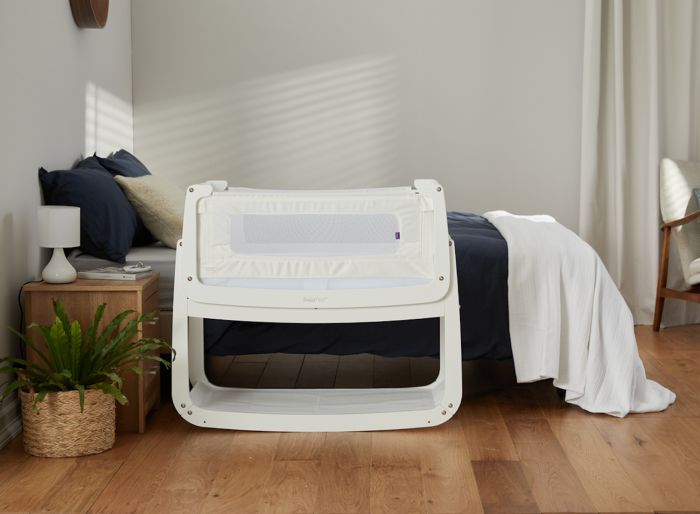 (credit: Snuz)
SnuzPod4 ($239)
The UK's favorite bedside bassinet is making its way to the US starting September 2023. The SnuzPod4 is a bedside crib which has provided a safe sleeping solution for over a decade to babies in the UK. Now in its fourth generation, the bedside crib makes its way stateside providing a clever sleep solution and includes a lightweight lift-off bassinet for convenient use around the home. Available in four colors (natural, dove grey, espresso and white), it comes with an innovative ComfortAir™ breathable system for temperature regulation and seven height settings to fit a wide range of adult beds.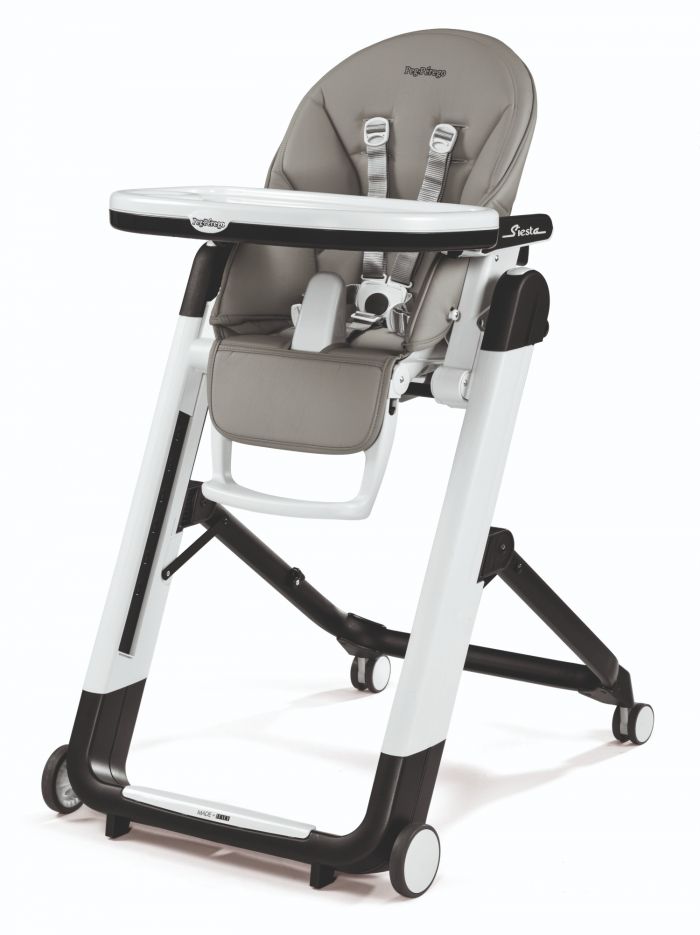 (credit: Peg Perego)
Peg Perego Siesta Highchair ($329-$429)
Available in 12 different colors, this highchair is great for young ones from birth to toddler. With five reclining seat positions, nine different height positions and an adjustable three-position footrest, this highchair is made of eco-friendly leather upholstery which is stain resistant. The multifunctional, ultra-compact high chair folds quickly and compactly for easy storage when not in use. Featuring a five-point safety harness and passive restraint bar, your child will be safe while dining on his or her favorite little treats.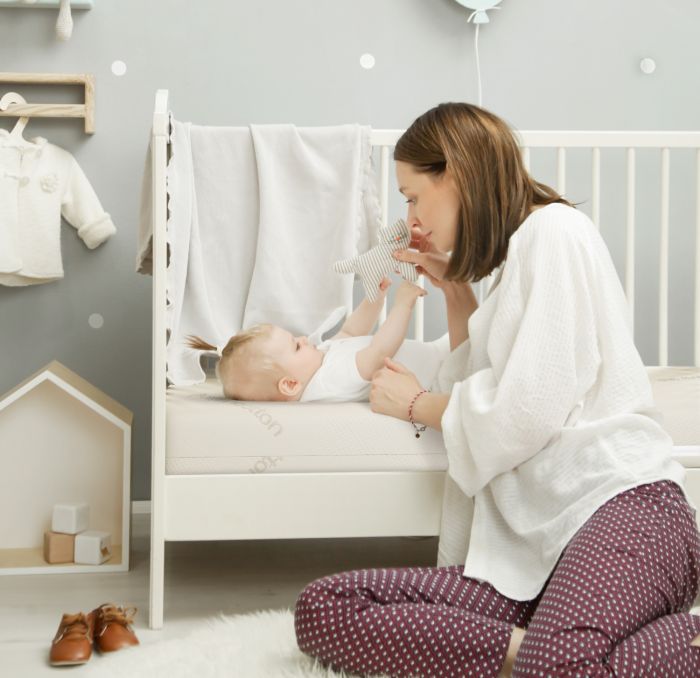 (credit: courtesy of Saatva)
Saatva Crib Mattress ($355)
Designed to help regulate infant/toddler body temperature and give them the best support possible at every growth stage, the crib mattress is suitable for little ones from infancy to three years old. The dual-sided (one for babies, one for toddlers) baby mattress is handcrafted with natural, non-toxic, eco-friendly materials to give your bundle of joy a bundle of comfort and the deep sleep he or she needs.  Add their organic cotton crib sheet pair ($79) to give your little one the most protection and comfort and you the peace of mind as your baby is cradled in soothing comfort.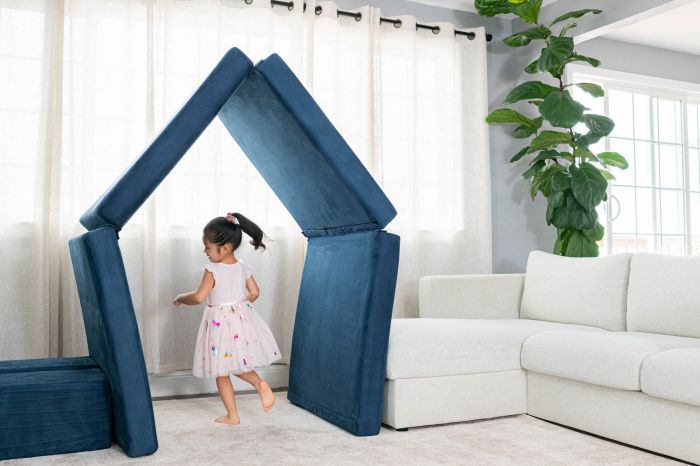 (credit: Figgyplay.com)
The Figgy ($379)
Figgy is the ultimate luxe modular kid's play couch allowing your little one's mind to create whatever he/she may desire. From forts to treehouses to rafting the high seas, the Figgy is known for its unique Velcro connectors which make sure all your child's creations stick and allows for the creation of anything and everything an imagination can create. Available in seven colors, the Figgy comes with four base cushions, two rectangles and the option to add an extra wedge and separate waterproof liners.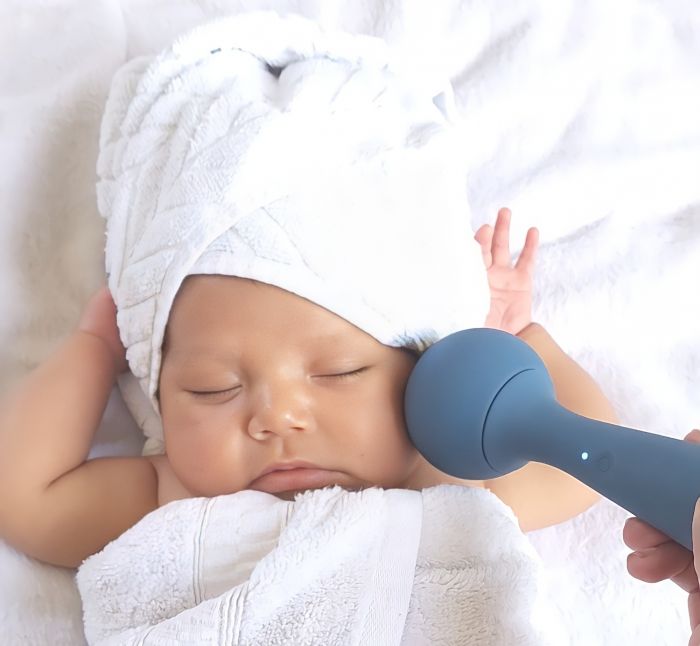 (credit: Kahlmi)
Kahlmi's Complete Baby Massager ($119)
Sooth your babies' aches with the Complete Baby Massager from Kahlmi, which offers three levels of vibration which can be adjusted to the baby's age. From teething, constipation, fussiness, gas or sore muscles from crawling around, the massage wand offers a natural and holistic solution to many new parent problems. Created by a certified infant massage instructor and mom of two boys, the massager promotes better sleep, relaxation, bonding and showed marked improvements in digestion.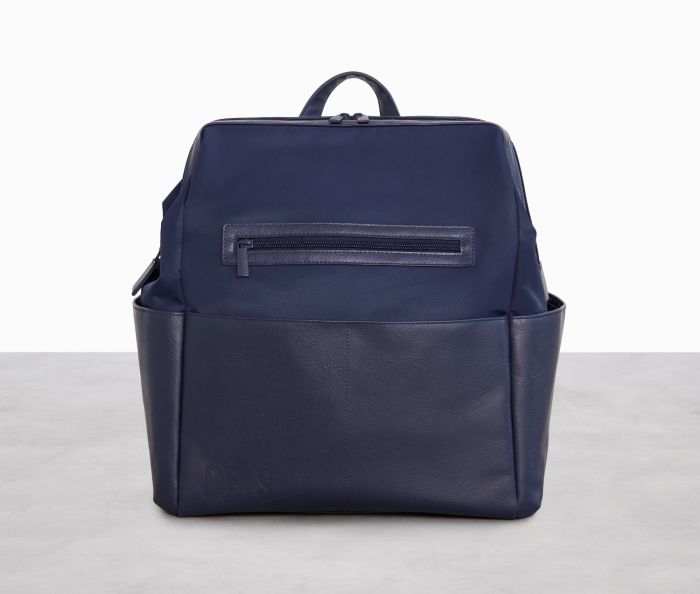 (credit: courtesy of BÉIS)
BÉIS' Backpack Diaper Bag ($148)
Available in black, grey and navy, the Backpack Diaper Bag is the perfect and stylish accessory for parents on-the-go. Chic enough that no one will suspect that a dirty diaper inside, the bag features essential functions for every need, including a changing pad with a diaper and baby wipes pocket, odor proof pouch, teething ring and more. With five exterior pockets, removable stroller straps and even a padded laptop sleeve, this stylish bag is stain-resistant and features a vegan leather trim.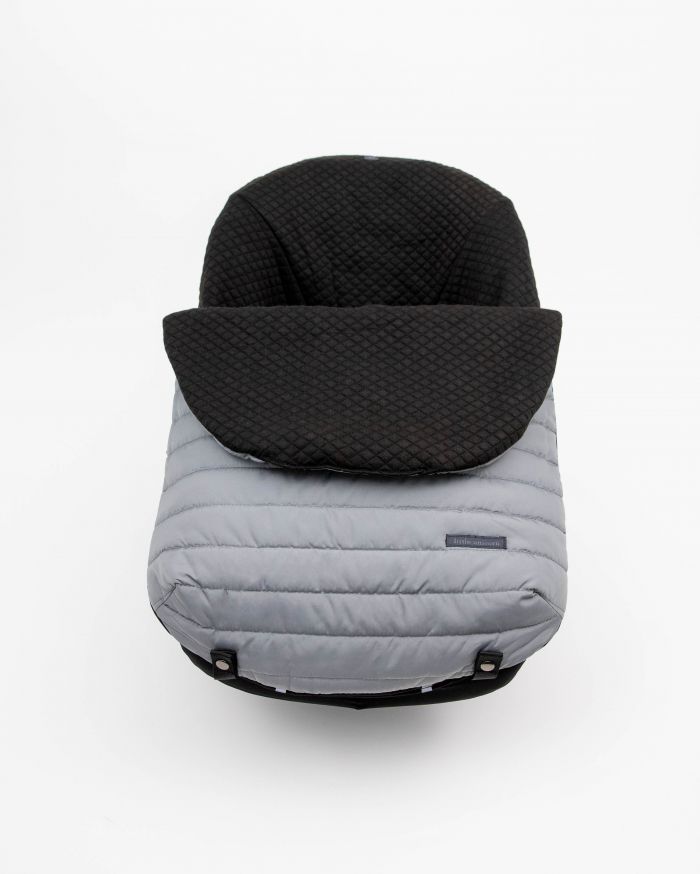 (credit: Little Unicorn)
Little Unicorn's Infant Car Seat Footmuff ($90)
For those chilly days out, the Infant Car Seat Footmuff comes in eight distinct colors and makes sure your little one is cozy and warm when it's chilly outside. With a fuss-free magnetic closure and a stylish, weather-resistant topper, the soft-quilted interior liner keeps your baby comfortable even in cooler temperatures. Simplify your outings with its stretch band for simple install and removal while its open back design gives easy access to the harness system. Machine washable with a stuff sack included, take on bad weather with ease with this stylish footmuff.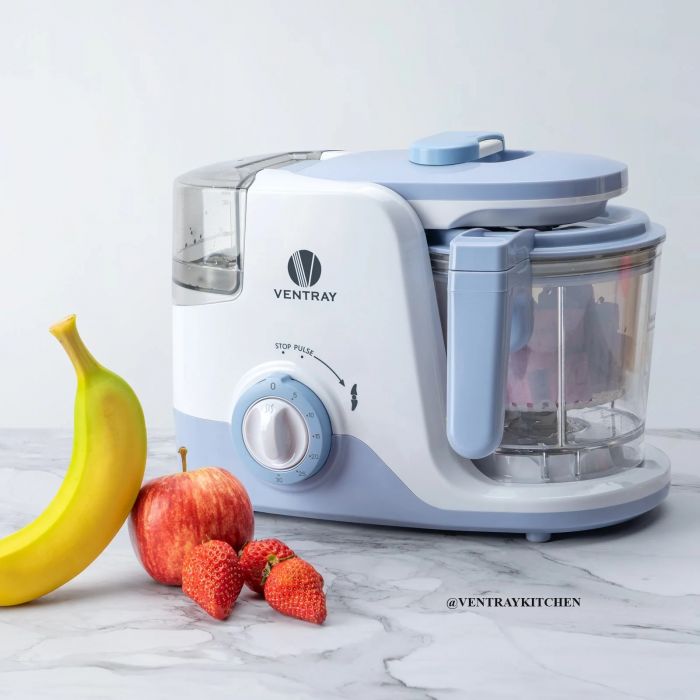 (credit: Ventray)
Ventray BabyGrow EliteBaby Food Maker ($85.99)
A great kitchen gadget to make parent's lives easier, the Ventray BabyGrow EliteBaby Food Maker combines convenience and health to nourish their newborns with homemade, wholesome meals. Ensuring  that every spoonful of food is free from additives and preservatives, the baby food processor is everything you need to feed your child right. Theall-in-one baby food processor allows for steaming, defrosting and blending along with featuring a built-in timer allowing for up to 30 minutes of continuous steaming or defrosting.